Using HubSpot's Never Log Settings you are able to keep personal emails addresses out of your CRM
This HubSpot CRM quick tip is about keeping your contacts clean in the CRM and keeping out your friends, family, and other personal contacts. This has happened to me quite bit where I forget to de-select the sync button in my HubSpot gmail extension and then I have personal emails added as contacts to our HubSpot database.
If you are using HubSpot's email extensions (Google, Outlook or Office365), it will not prevent your personal contacts from being created over and over again in the CRM. You will want to use HubSpot's Never Log settings. To get there follow these steps:
In your HubSpot account, click the settings icon settings in the main navigation bar.
In the left sidebar menu, navigate to General and click on the Email tab.
In the Never Log section, click Add emails or domains button on the right

In the pop up window titled Add emails or domains to not log you can enter multiple email addresses and/or domains, each on a new line or separated by a comma, semicolon or space. Anything added to this list will only block logging for you.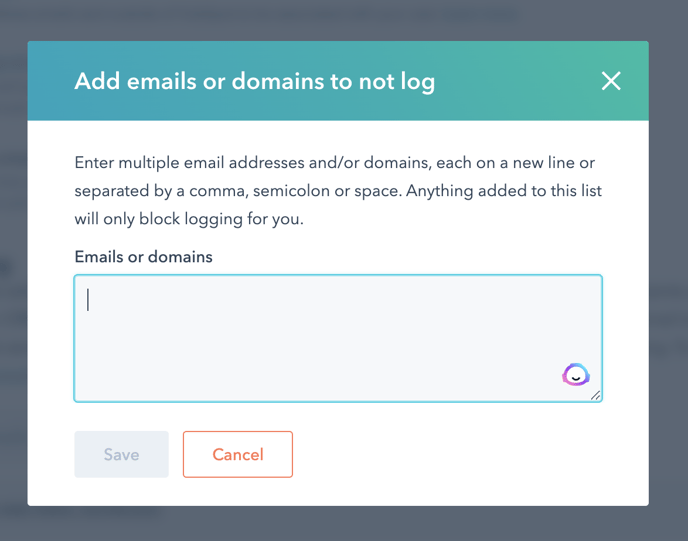 This will allow you tell HubSpot, just once, not to sync emails with these specific contacts. Below is an example of how your never log email entries will look in your HubSpot settings.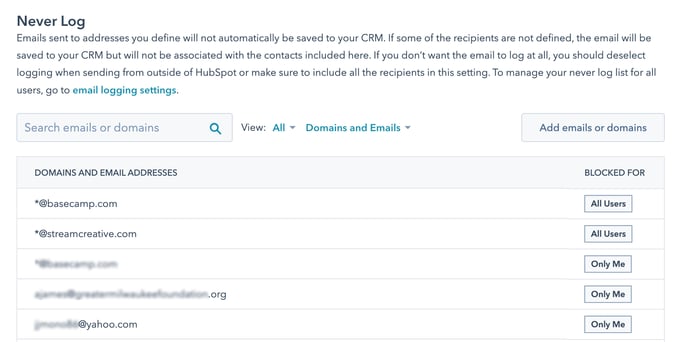 *Note, if you looking to block all free email domains (like hotmail, yahoo, etc.) check out this article. How to block free email addresses