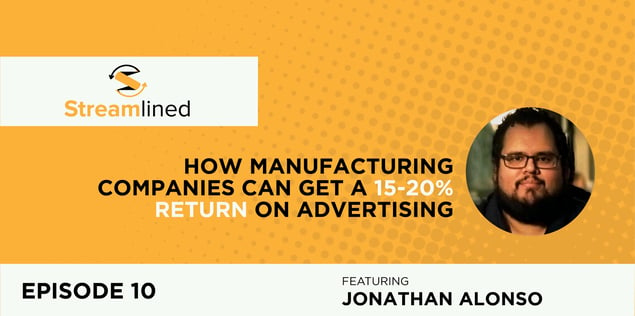 You don't see many video ads in manufacturing.
But here are two numbers proving that needs to change:
15 and 20.
Add a percent sign behind those two numbers and you have the range of the return you'll get by doing YouTube advertising.
For the visual people, that's 15-20%. It works. Jonathan Alonso has A/B tested it.
Listen in to hear Jonathan's thoughts on video ads, KPIs, and why he's excited for the future of marketing in the manufacturing space.
"Time is the biggest factor to getting the most out of your data." - Jonathan Alonso

"With YouTube advertising, I've seen a 15-20% return." - Jonathan Alonso
Show Notes:
Jonathan Alonso, Director of Marketing for CNCMachines.com
---
To help out the show:
Leave an honest review and subscribe on iTunes. Your ratings and reviews really help and we read each one.