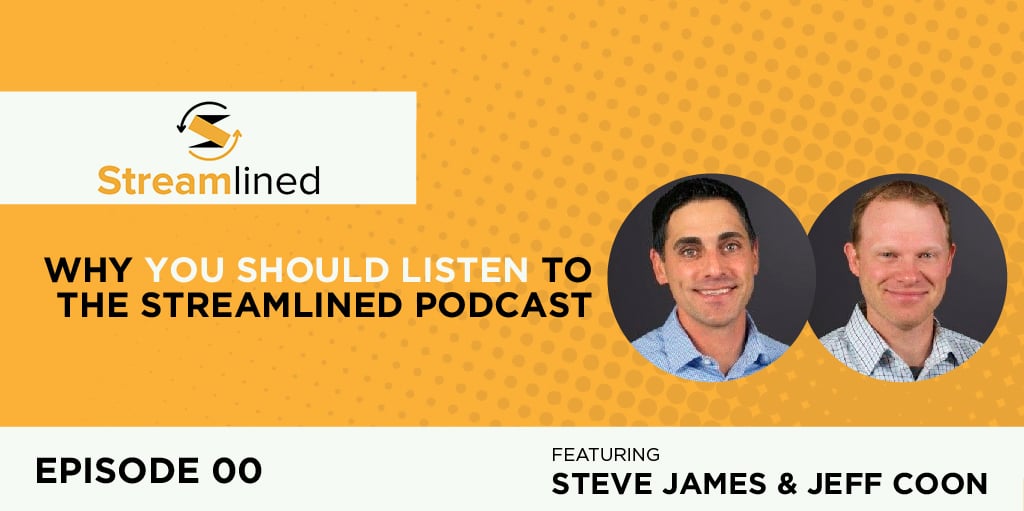 How intentional are you when it comes to learning from other business professionals in your industry? In the world of marketing, where technology and processes change (and improve) everyday, we need one another to stay on top of our game. Because we just don't have all the answers, and we never will. There's too much to learn. But that's why we're launching the Streamlined podcast.
Podcast hosts, Jeff Coon and Steve James, partners at Stream Creative, hope to help today's manufacturing business leaders achieve growth through sales, marketing, technology & process improvements. And what better way to do that than a podcast where you provide a lot of value through an easy-to-access medium and build a personal connection with your audience.
By tuning into the podcast, you'll hear from a diverse group of subject matter experts who will provide actionable takeaways you can implement right away in every episode. Practices that will help you become more effective and efficient ranging from topics like sales and marketing process improvement and implement emerging technology to grow your business. If your company is lacking a streamlined work culture, this is the podcast for you.
If you have suggestions for show guests or topics, email the podcast team at podcast@streamcreative.com
"We started Stream Creative with a clear vision: we wanted to work with good people and help their businesses grow through branding and establishing a strong digital presence." -Steve James