For Immediate Release
August 19, 2013
Contact: Andrea Brinkman
PR Consultant, Stream Creative
414-530-0704 | pr@streamcreative.com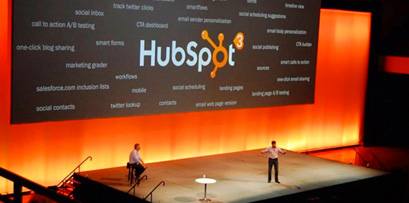 Inbound 2013, A 4-day marketing conference and training hosted by HubSpot brings over 5,000+ marketers from around the world August 19- 22 at the Hynes Convention Center in Boston, Massachusetts.
(MILWAUKEE, WIS – AUGUST 19, 2013) – Marketers from around the world have a little more to look forward to at HubSpot's Inbound 2013 Conference taking place in Boston Massachusetts this week thanks to Stream Creative – a Milwaukee agency that focuses on inbound marketing, web design development and branding. Stream Creative partner, Jeff Coon, will speak about "Achieving Irresistible Results in an Unsexy Industry"; a presentation featuring the group's success working with companies that offer industrial or knowledge-based products. Marketers recognize these companies as those with perceived lackluster products or services and oftentimes present challenges from legal to internal compliance.
On Wednesday, August 21 from 12pm – 12:45pm, Jeff will speak to conference attendees to share his expertise in helping businesses create a brand presence through content strategy, establishing rapport and measurable results. Jeff will also share key learnings from Stream Creative-led campaigns within midwest companies such as Wolf Paving, Goodwill Industries, R&R Insurance, InVivo Therapeutics, West Bend Insurance and more.
"We have seen tremendous success working with companies who are challenged to build their brand and sales within industries where products or services aren't visual or sold within a retail setting," said Jeff Coon, Creative Director and Partner, Stream Creative. "It is an honor to have the opportunity to present our strategy and represent the city of Milwaukee at Inbound 2013 in Boston, MA."
Inbound 2013 takes place August 19-22 at the Hynes Convention Center in Boston, Massachusetts. The four day event is the biggest collaboration of inbound marketers in the world and will offer more than 100 keynote sessions, product demonstrations and a live concert, Inbound Rocks, featuring Wild Side and One Republic.
To learn more about Stream Creative, visit www.streamcreative.com. To learn more about HubSpot's Inbound 2013 conference, visit www.Inbound.com.
About Stream Creative
Stream Creative is a group of hard-working marketers who enjoy supporting business owners, marketing directors and internal design teams in Milwaukee and around world. Founded in 2007 by Jeff Coon, Steve James and Brian Brinkman, Stream Creative now employs 8 full-time web designers, graphic designers, programmers and inbound marketing strategists. The team takes great pride in creating multi-channeled marketing campaigns which grow brands and create loyalty among consumers for the businesses they serve. For more information, please visit www.streamcreative.com.
###