Representatives from Stream Creative will attend the first-ever gathering of gold and platinum HubSpot partners for a jam-packed conference including expert sessions, marketing workshops and networking.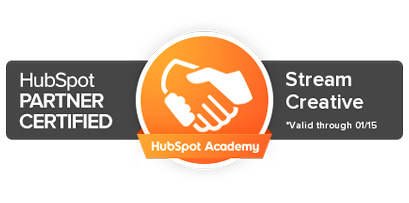 What happens when you get some of the best inbound marketers from around the world in one location? A flow of creativity, collaboration, idea-sharing and cocktails. With Stream Creative being named a HubSpot certified partner since 2010, representatives from the agency look forward to traveling to Boston this week for the inaugural HubSpot Partner Day. Attendees will connect with colleagues, share best practices and learn the latest trends in inbound marketing strategy, technology, sales and service.
HubSpot partners who attain gold or platinum level status have incorporated the training and methodology to advance traditional marketing practices into evolving areas of search, social and content marketing. A platform that is designed to generate leads and strengthen relationships, HubSpot allows partners like Stream Creative to better position their clients as valued, and recognized experts in their respective industries.
To learn more about Stream Creative's inbound marketing strengths and successes as a gold-certified HubSpot partner, visit www.streamcreative.com. To learn more about HubSpot, visit www.hubspot.com.