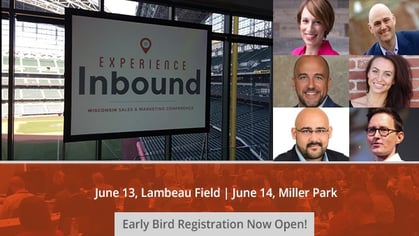 Experience Inbound is Wisconsin's most strategy-focused inbound sales and marketing conference that will give individuals and teams an opportunity to obtain actionable instruction and key insights provided by expert speakers from HubSpot, The Milwaukee Bucks, SEMrush, Moz, Allbound, and other leading technology companies.
Wisconsin marketing agencies Stream Creative of Milwaukee and Weidert Group of Appleton, have opened registration and announced the speaker lineup for Experience Inbound 2017 – a statewide conference for marketing and sales professionals. This 4th annual event will be presented in its entirety in two locations on two different days, in iconic locations including Green Bay's Lambeau Field on Tuesday, June 13 and Milwaukee's Miller Park on Wednesday, June 14.
The dynamic lineup of event speakers include leading experts from all areas of marketing, sales and technology:
Andy Crestodina, Co-Founder / Strategic Director, Orbit Media Studios
Sam Mallikarjunan, Head of Growth for HubSpot Labs
Mike Grahl, Vice President of Digital, The Milwaukee Bucks
Martin Weinberg, Director of Marketing, U.S., SEMrush
Britney Muller, SEO and Content Architect, Moz
Jen Spencer, Vice President of Sales and Marketing, Allbound
Tony Gnau, Founder and Chief Storytelling Officer, T60 Productions
Greg Linnemanstons, President, Weidert Group
Steve James, Partner, Stream Creative
Nicole Mertes, Director of Business Development, Weidert Group
Jeff Coon, Partner, Stream Creative
"It has been proven that businesses with effective sales and marketing alignment achieve 208 percent higher marketing revenue than organizations with disjointed teams," said Jeff Coon, Partner at Stream Creative. "Experience Inbound will allow us to provide strategic insights and tools that business professionals across the state can begin implementing immediately following the events."
Early bird registration for Experience Inbound is now open through April 16, 2017, and general registration will be open until June 9, 2017.
For more information about event details and to register for Experience Inbound, visit www.experienceinbound.com and follow @StreamCreative and @WeidertGroup on Twitter #ExpInbound.
Sponsors for Exerience Inbound include: Weidert Group, Stream Creative, The Saturn Lounge, Gordon Flesch Company, Inc., HubSpot, T60 Productions, SEMrush, Orbit Media Solutions, Moz, Allbound, The Milwaukee Bucks, Forte Research Systems, Insight, Big Shoes Network, and iHeart Media.
About Stream Creative
Stream Creative is a group of nationally recognized marketers who enjoy supporting business owners, marketing directors and internal design teams in Milwaukee and around the world. Founded in 2006 by Jeff Coon, Steve James and Brian Brinkman, Stream Creative is an inbound marketing and design agency, as well as a Platinum Level HubSpot Partner. The team takes great pride in creating multi-channeled marketing campaigns that grow brands and create loyalty among consumers for business-to-business and business-to-consumer organizations in industries such as manufacturing, insurance, healthcare and more. For more information, please visit www.streamcreative.com.
About Weidert Group
Weidert Group, founded in 1981, is a full-service inbound marketing agency and a Platinum level HubSpot partner. HubSpot is the world's leading marketing automation software, with more than 11,000 customers in 70 countries. Weidert Group provides all components of an effective inbound marketing effort, including strategy and planning, web design, search engine optimization, content strategy and development, social media promotion, lead nurturing, and program management. Clients represent primarily business-to-business organizations in equipment & machinery manufacturing, financial services, insurance, A/E/C industrial services, industrial distribution and other industries.