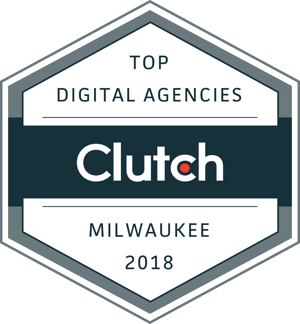 Stream Creative loves helping businesses grow through what we do. As a full-service marketing and design agency, the Stream team researches, plans, strategizes, and executes to ensure the growth and success of our clients. Between our branding, website design, inbound marketing, video production, content marketing, graphic design, and public relations chops, Stream Creative has the expertise and experience to serve as an extension of our partners' teams in fueling their development.
We are privileged to work with so many great businesses in Milwaukee and to be named by Clutch as one of the top Internet marketing agencies in Milwaukee. Clutch's sister company, The Manifest, named us the no. 2 digital marketing agency in Milwaukee, and we very much appreciate both of these accolades and what they signify for our company.
This recognition results from the scoring that The Manifest and Clutch, as sister research and business insight firms, conduct by evaluating companies' proven market presence, previous experience, customer satisfaction, and more. The compilation and analysis of data used in the review process ensures the reputability of firms like Stream Creative. We are proud to have earned top honors as one of the premier marketing agencies in Milwaukee and to have our consistency and track record for quality marketing solutions showcased so prominently.
Beyond the data-driven approach taken by Clutch and The Manifest, our team wants to acknowledge the impact of our clients and their feedback in our growth and success. We value hearing from our clients that our interactions and results have been mutually beneficial for their businesses and operations and wanted to highlight some of their praise.
"They got to know us and our students very well, and that helped them shape and recommend effective marketing. They also helped us promote events for the student population. Their ability to listen attentively was key to the quality of their suggestions around ideas that we wouldn't have otherwise thought of. That was exactly the kind of help we were looking for from the onset of the project," shared one client on the scope of our involvement.
"They performed very well and always stayed on track with timelines. They were able to make informed, strategic decisions based on user data. We had regular calls and in-person meetings to stay on the same page. We were very impressed by their willingness to understand our business and our user. That understanding allowed them to be proactive in offering unique solutions. We're looking forward to working with them again in the future," the client continued. "They don't over-promise and they know exactly what they're capable of doing."
Thank you to Clutch and our clients for their support of all that the Stream Creative team achieves with our partners. We love being able to use our marketing and strategy experience to build businesses up, and we look forward to more collaborations in the near future.