A Wisconsin insurance producer portal designed by Stream Creative, R&R Insurance Services of Waukesha, has earned recognition as "best agency website" in National Underwriter's annual awards program.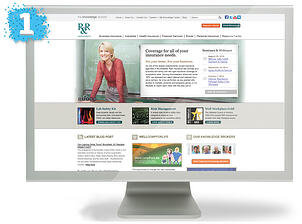 (MILWAUKEE, WIS – June 25, 2014) – R&R Insurance Services' website designed by Stream Creative of Brookfield, WI has been named as National Underwriter's 2014 Best Agency Website. An independent panel of judges reviewed and graded the nominations based on criteria including appearance, mobility, brand awareness, services offered and multimedia. R&R Insurance's website was selected for the top spot based on the use of SEO, analytical tools and integrated brand awareness.
The creative marketing team made up of design and strategy representatives from Stream Creative and R&R Insurance migrated web content to a HubSpot platform that is more user-friendly than the organization's previous content management system and also includes robust analytical tools. A strategic, inbound-marketing focus was geared toward developing valuable content including blogs, video, social integration and more to ultimately attract warm leads for R&R Insurance.
"With inbound marketing, producers at R&R can target their leads with follow-up content relative to their interests and actions on our websites," says Ken Riesch, R&R's president and owner. "It's a more natural way to start developing a relationship with a prospect before the first face-to-facemeeting, and will certainly shorten the sales cycle for our producers."
The concept paid off for R&R Insurance with visits increasing by 50% and quote requests nearly quadrupling within the first year of the new website's launch. With content updated daily by the creative marketing team through the HubSpot platform and Google analytics, a dashboard is generated that provides company stakeholders with the necessary information to analyze traffic, leads, social engagement and customer conversion.
"We are honored to have the opportunity to work with an incredible R&R Insurance Services team and to have been included as National Underwriter's honoree," said Jeff Coon, Creative Director and Partner at Stream Creative. "We strive to provide the best strategy, design work and service to our clients and it is humbling to receive such positive recognition for our partnership."
Other dynamic features of the award-winning site include pages that highlight individual broker's expertise as well as personal interests – showcasing the human side of the agency. Additionally, a microsite was developed that provides risk management and loss prevention resources, adding to the valuable traffic-driving content to further generate leads for R&R Insurance producers.
About Stream Creative
Stream Creative is a group ofmarketers who enjoy supporting business owners, marketing directors and internal design teams in Milwaukee and around world. Founded in 2006 by Jeff Coon, Steve James and Brian Brinkman, Stream Creative now employs 7 full-time web designers, graphic designers, programmers and inbound marketing strategists. The team takes great pride in creating multi-channeled marketing campaigns that grow brands and create loyalty among consumers for the businesses they serve. For more information, please visitwww.streamcreative.com.