Milwaukee Inbound Marketing Company Stream Creative is excited to share their Silver-Level Agency Partner Certification from HubSpot.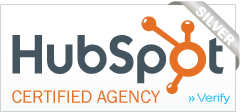 In cooperation with HubSpot's inbound marketing tools and our web development and marketing knowledge, we are able to provide quality marketing service to our customers promising a return on investments. We have been a proud HubSpot partner since 2010.
HubSpot is a leader in the inbound marketing and content management systems because of the education they provide for businesses and by proving that their software is successful. With their marketing tools, businesses are able to compare their websites to competitors, track and analyze growth and report it. HubSpot also provides many free eBooks and whitepapers to help educate their customers with inbound marketing and web development practices.
In order to become a HubSpot partner, an inbound marketing company must pass an exam, to show their knowledge in inbound marketing and the steps to achieve success. To receive the Silver-Level certification, the company has to demonstrate that their clients are achieving recurring monthly success and a high ranking likelihood of a lead converting into a sale within HubSpot's Customer Happiness Index.
We are very excited to be a Silver-Level partner with HubSpot. Combining our years of experience in and passion for this industry, we will continue to provide the best inbound marketing service and HubSpot CMS system to our clients.