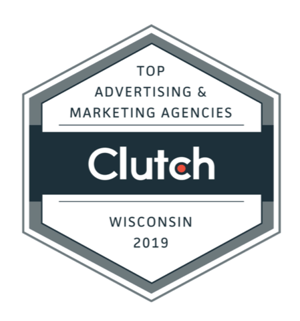 Since 2006, we have been a dedicated full service digital marketing agency that works to bring real results to our clients. Our years of expertise have helped us become a top advertising and marketing agency in Wisconsin according to Clutch! Clutch is a ratings and review platform that connects buyers and service providers and additionally releases an annual list of industry leaders that is divided by location, and we have made the list!
Clutch is a B2B ratings and review firm in Washington, D.C. that connects businesses through a unique method. They analyze thousands of service providers based on client reviews, work experience, and market presence. Clutch analysts speak directly with clients of service providers to gain unbiased reviews, and they have spoken with our clients! Our clients have given us a 5-star score and helped us become a top advertising and marketing agency in Wisconsin.
"It's an honor to be recognized by Clutch for the second year in a row as a top advertising and marketing agency in Wisconsin based on our services provided and real feedback from clients," said Steve James, partner at Stream Creative. "As a long-time HubSpot Platinum Certified Agency Partner, we remain dedicated to becoming an extension of our partners' marketing teams and offering a data-driven approach to inbound marketing, website design, content creation, SEO analysis, and much more."
In addition to Clutch, we have been featured on two of their sister sites that connect businesses. The Manifest is a business news and tips site; service providers can create a Manifest profile that showcases their notable projects, awards, and previous clients. Visual Objects is a portfolio-sharing site that provides the resources potential clients need to see in order to choose the right business partner.
Thank you once again to our clients for working with us to create award-winning projects. We appreciate your business and your time. Visit our website and get in touch to learn what project we can build together next!