Milwaukee inbound marketing agency is officially certified in designing and developing websites using the new HubSpot Content Optimization System (COS).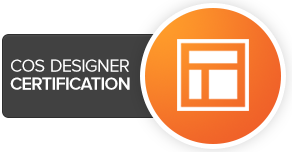 HubSpot announced the release of their new content optimization system, or COS, this past year at Inbound 2013. Along with it came their certifications - an opportunity for agencies to prove their expertise in the HubSpot software by designing and building websites using the COS.
The HubSpot COS combines both content and personalization, making it an integrated website, blog, and landing page system that is built using a responsive design, meaning it is mobile-optimized. The COS is also integrated with every marketing channel incorporating tools from email to social to web. HubSpot's COS enables more personalization for individual viewers, creating pages specific for the changing needs of each lead and customer.
A Hubspot COS Designer Certification showcases agencies that are prepared to provide high quality COS templates that adhere to marketing and structural best practices. Not only does this take into account knowledge of the COS, but it also requires knowledge and experience in HTML/CSS and how to set up a site for users.
Stream Creative has completed and passed both the exam and the practicum, proving their knowledge and understanding, and ability to use the COS.
Stream Creative is a Milwaukee inbound marketing agency that specializes in HubSpot COS web design and development, that helps clients increase revenue by growing their website traffic and online conversions. Other services provided by Stream Creative include advertising, graphic design for print materials and outdoor boards, and video marketing.
About HubSpot
HubSpot is on a mission to replace the world's annoying, interruptive marketing with marketing that people love. HubSpot software is the most powerful, tightly integrated and comprehensive marketing software available, putting personalized inbound marketing into the hands of any business. Over 9,000 companies in 56 countries use our software to create lovable inbound marketing to attract, nurture and convert leads into an accelerating stream of new customers and revenue. HubSpot has been named one of the most promising, fastest growing companies by Inc, Forbes and Deloitte for the best possible reason: customer results. HubSpot has over 400 employees, was founded in 2006 and is based in Cambridge, MA. For the love of marketing, find us at www.HubSpot.com.