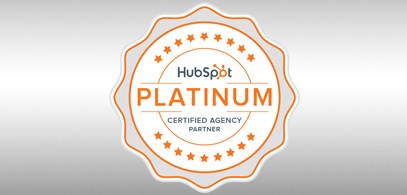 Stream Creative, an inbound marketing and design agency based in Brookfield, has become only the third Wisconsin agency to achieve HubSpot Platinum Partner tier status.
Recognized as one of the twelve best
HubSpot
partners of 2014 by
The Sales Lion, Marcus Sheridan
, and a long-standing Gold-level partner, Stream Creative is one of only 35 agencies globally to have reached the prestigious distinction of Platinum Partner tier status in a group of 2,000 HubSpot agency partners worldwide. HubSpot (NYSE: HUBS) is the world's leading provider of inbound marketing and sales software. The Partner Tier program acknowledges agency partners who share inbound methodology and provide services with a high standard for performance metrics and customer engagement.
"Becoming a Platinum Partner is a milestone that could not have been reached without the tremendous support of our valued clients and internal team," said Jeff Coon, Creative Director and Partner at Stream Creative. "We look forward to continuing our work toward unifying sales and marketing teams through inbound methodology."
Stream Creative exemplifies a HubSpot partner on many levels from successful client partnerships, to award winning website design and content management, partner community participation, national speaking engagements, certifications and more. Established in 2006, co-founders Steve James, Brian Brinkman and Jeff Coon have seen rapid growth in recent years, further expanding the agency's B2B and B2C client base including local companies such as R&R Insurance, Advanced Pain Management, Baker Cheese, and West Bend, to name just a few.
"I, along with the whole team at HubSpot are very proud and excited to welcome Stream Creative as a HubSpot Platinum partner," said Chris Alexis, Channel Account Manager with HubSpot. "We recognize Stream Creative as a leading member of our partner team as their vision and drive positions them to be trusted advisors and COS experts."
Stream Creative recently shared their high-impact inbound strategies alongside some of the best thought leaders in marketing and sales during their annual Experience Inbound event that took place on Wednesday, June 3, 2015 at Miller Park. The dynamic line-up of speakers included representatives from HubSpot, Google, Wistia, Milwaukee Brewers, Relevance.com and more. An event recap can be viewed here.
About Stream Creative
Stream Creative is a group of nationally recognized marketers who enjoy supporting business owners, marketing directors and internal design teams in Milwaukee and around the world. Founded in 2006 by Jeff Coon, Steve James and Brian Brinkman, Stream Creative is an inbound marketing and design agency, as well as a Platinum Level HubSpot Partner. The team takes great pride in creating multi-channeled marketing campaigns that grow brands and create loyalty among consumers for business-to-business and business-to-consumer organizations in industries such as manufacturing, insurance, healthcare and more. For more information, please visit www.streamcreative.com.
About HubSpot
HubSpot is the world's leading inbound marketing and sales platform. Since 2006, HubSpot has been on a mission to make the world more inbound. HubSpot's inbound marketing software, ranked #1 in customer satisfaction by VentureBeat and G2Crowd, includes social media publishing and monitoring, blogging, SEO, website content management, email marketing, marketing automation, and reporting and analytics, all in one integrated platform. Sidekick, HubSpot's award-winning sales application, enables sales and service teams to have more effective conversations with leads, prospects, and customers. HubSpot is headquartered in Cambridge, MA with offices in Dublin, Ireland, and Sydney, Australia, and has been recognized by Inc., Forbes, and Deloitte as one of the world's fastest-growing companies. Learn more at www.hubspot.com