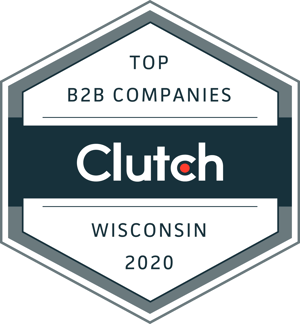 Stream Creative is a full-service B2B marketing and sales agency that strives to bring real results to our clients. Although our client base is quite diverse, since 2006 our team has established significant experience supporting manufacturers and is known as a prominent midwest agency among B2B organizations. In fact, our work in the areas of measuring and improving ROI through inbound strategy, web design and development, video, PR, digital media, and much more has helped us become a top marketing and advertising agency in Wisconsin, according to Clutch!
"We're thrilled to be recognized for the third year in a row as a top B2B company in Wisconsin based on our services provided and real feedback from clients," said Steve James, partner at Stream Creative. "As a long-time HubSpot Platinum Certified Agency Partner, we remain dedicated to becoming an extension of our partners' marketing teams by offering a data-driven approach to integrated marketing."
Clutch is a ratings and review platform that connects buyers and service providers and additionally releases an annual list of industry leaders that is divided by location, and we have made the 2020 list!
Clutch ratings and reviews connect businesses through a unique method. They analyze thousands of service providers based on client reviews, work experience, and market presence. Clutch analysts speak directly with clients of service providers to gain unbiased reviews, and they have spoken with our clients! Our clients have given us a 5-star score and helped us become a top B2B marketing and advertising agency in Wisconsin.
Steve added, "We truly appreciate the relationships we hold with our clients and take pride in the collaboration that has resulted in many award-winning projects. We are committed to maintaining a progressive drive to remain at the forefront of the latest integrated marketing strategies, software, and technology.
The Stream Creative team would love to get in touch and learn about what project we can build together. Learn more about our work at Streamcreative.com.