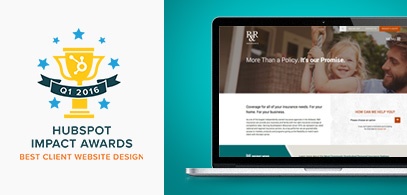 Stream Creative, an inbound marketing and design agency based in Brookfield, WI, received a 2016 Q1 HubSpot Agency Partner Client Award, which recognizes remarkable client work both domestically and internationally.
(MILWAUKEE, WIS – January 25, 2015) – R&R Insurance Services' website designed by Stream Creative has been named Best Client Web Design as part of HubSpot's prestigious 2016 Impact Awards. HubSpot (NYSE: HUBS) is the world's leading inbound marketing and sales platform used by over 16,000 customers in more than 90 countries. The HubSpot Partner Agency Client Impact Awards are a representation of the best international work in the areas of Client Growth, Graphic Design, Growth-Driven Design, Integration Innovations – Domestic, Integration Innovations – International, and Website Design. Stream Creative also received HubSpot Impact Award recognition with honorable mention in the category of graphic design.
"Our tenured relationship with Stream Creative has allowed them to truly understand the various facets of our business and it shows in the production of the new website," said Stephanie Schreiber, Creative Marketing Specialist for R&R Insurance Services, Inc. "Our sales team is appreciative the new design is easy to navigate and our marketing team enjoys the user-friendly software."
As early adopters of the inbound marketing methodology and HubSpot's marketing platform, Stream Creative became a HubSpot agency partner in 2010 and achieved Platinum Status in 2015. This strategic transition for the agency has resulted in customer growth of over 32% year over year.
"Stream Creative has set an example for how businesses everywhere should be transforming their marketing with inbound," said Patrick Shea, Marketing Director for HubSpot. "Their strategic approach to attracting, engaging, and delighting customers has not only built valuable relationships with their audience, but has driven growth for their agency and the inbound movement. Our team here at HubSpot is proud to call Stream Creative a Partner and recognize them with this Award."
For more information about Stream Creative, visit streamcreative.com. To learn more about the HubSpot Partner Agency Client Impact Awards, visit hubspot.com.
About Stream Creative
Stream Creative is a group of nationally recognized marketers who enjoy supporting business owners, marketing directors and internal design teams in Milwaukee and around the world. Founded in 2006 by Jeff Coon, Steve James and Brian Brinkman, Stream Creative is an inbound marketing and design agency, as well as a Platinum Level HubSpot Partner. The team takes great pride in creating multi-channeled marketing campaigns that grow brands and create loyalty among consumers for business-to-business and business-to-consumer organizations in industries such as manufacturing, insurance, healthcare and more. For more information, please visit www.streamcreative.com