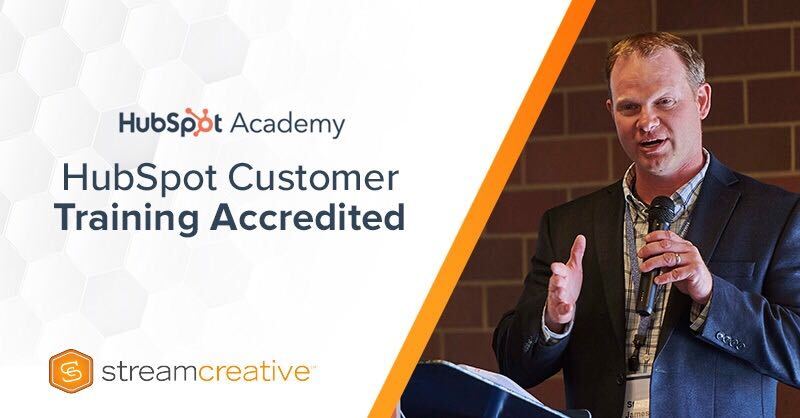 Select HubSpot solutions partners that meet Customer Training Accreditation requirements may offer exclusive customer training courses, marketing resources, and coaching sessions.

(MILWAUKEE, WIS – May 25, 2022) – Stream Creative, a full-service Milwaukee digital marketing agency, announced agency partner Steve James has earned the HubSpot Customer Training Accreditation (HCTA), a certification designed to help HubSpot solutions partners expand the range of services offered to include exclusive training courses officially recognized by HubSpot. Only one of five HubSpot solutions partners in the United States and one of nine worldwide hold the certification.
"Throughout our nearly 20 years supporting inbound and integrated marketing initiatives for companies across North America, we've always strived to help provide our clients with a deep understanding of the strategies, resources, and tools needed to achieve their goals." said Steve James, partner with Stream Creative. "Becoming designated as a HubSpot Master Trainer represents our agency's longstanding commitment to inbound methodology, and will allow for the further dissemination of knowledge that will make a notable impact in the growth of industries and companies we serve."
HubSpot Customer Training Accreditation requirements include:
HubSpot agency status of platinum or above

Maintain the mandatory HubSpot valid certifications in the designated areas of proficiency

Complete required shadowing sessions in HubSpot customer training

Complete dry-run sessions

Complete training sessions evaluated by HubSpot review representatives
James added, "I look forward to offering HubSpot users the opportunity to meet in a small group setting and connect with others to learn about sales and marketing tools and the inbound methodology in a live, interactive, and hands-on environment. As an accredited trainer, I'll deliver HubSpot's official customer training courses to help evaluate current initiatives and planning for future campaigns."
The HubSpot Customer Training Accreditation spans five to seven weeks, depending on the training course of focus. HubSpot courses are offered monthly covering a variety of topics. Facilitated through Stream Creative, James' next course will be offered June 7-9 covering Marketing Hub Fundamentals - a three day, virtual session that will take a deep dive into website analytics, content creation, SEO, lead generation, automated workflows, SEO, and much more.
To learn more about Stream Creative and HubSpot's Customer Training Accreditation, visit www.streamcreative.com.