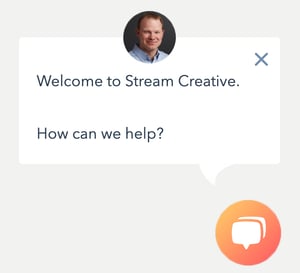 Is your business struggling to offer 24/7 answers to the questions customers are asking?
Are you seeking opportunities to reduce sales friction and seamlessly pass prospects through their buyer journey from awareness, to consideration, and finally, to the decision stage of their journey?
If yes, then you might want to learn more about chatbots.
Just to get it out there … chatbots are not scary, hard-to-implement technologies that suck up time and resources. In fact, chatbots are precisely the opposite.
Chatbots can solve the fundamental problems your business may face: prospects seeking information and demanding real-time answers to their questions during the buying process.
If you're considering adding a chatbot to your product or service-based website, keep reading to learn:
The three building blocks you must consider
Chatbot technology options
Where to place a chatbot on your website
Different types of chatbots
Chatbot scripting know-how
Chatbot quick implementation guide
Chatbot Building Blocks: Three Things You Must Consider
At first blush, many folks are skeptical about using chatbots. But the truth is, chatbots are a great tool to help save your business time and most importantly, create a better buying experience for your prospects and customers. Think about these three solutions chatbots can provide to your business.
Chatbot Marketing Support. Using chatbots on your website can help you build relationships with customers … at their pace. Folks can interact with your bot to ask questions, and your bot can provide options to help them navigate through the information they seek. Think question and answer, driving prospects to pages or resources that help them get the information they need.
Chatbot Sales Support. Chatbots are a great option to help you qualify leads and create meaningful, memorable conversations. With a choose-your-own-adventure framework, prospects can choose how deep in the sales process they want to navigate, and at the end, connect with a human to close the deal.
Chatbot Service Support. Build trust and provide helpful information to visitors using a knowledge-base chatbot. Outline common topics areas and lead visitors down the appropriate paths using your content to answer their questions. In addition, chatbots can save you valuable time explaining simple things like your address, phone number, or operating hours.
Chatbots can help you reduce the number of trivial questions you answer daily and address the main top-of-the-funnel concerns your prospects continuously seek to address. Thus, allowing you to focus on vital tasks and middle- and bottom-of-the-funnel inquires.
Learn more now about how chatbots can fuel your sales efforts.
Chatbot Platform Options For B2B and B2C
When it comes to selecting the chatbot technology platform that's right for your business, there are many options available to you.
Here are just a few chatbot platforms you might consider learning more about:
Drift
Hubspot
Chatfuel
Pandorabots
AgentBot
ManyChat
Where Should You Place A Chatbot On Your Website?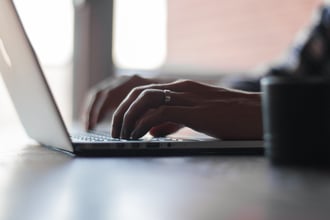 Great question! The type of chatbot you are using will dictate where a chatbot should be placed on your website. Below, we outline several types of chatbots you might consider, but first, you must also consider your prospects.
Where are visitors in their buyer journey? Don't overlook this important fact!
Introducing a lead-closing chatbot on a top-of-the-funnel awareness page is not a great customer experience. Match the bot to the customer journey.
Need help mapping out your buyer journey for chatbots? Read more now to learn how to map it out.
Top Types of Chatbots for Business
Offer / Content Chatbot. Use a bot on an educational blog post or product page to make a content offer to visitors. Do you want to download a free checklist, eBook, etc? Great! Give us your email (so we can send you lead-nurturing emails) and get your free offer!
Page Type: Awareness and / or Consideration
Lead Qualifying Bot. Use a progressing sales bot to funnel your leads and pass only the most qualified on to a human to close the deal. Chatbots are excellent at qualifying leads using question by question sequences. Just build your journeys to map it out, and watch the SQLs flow in.
Page Type: Awareness and / or Consideration
Lead Gen Bot. Do you develop campaigns that drive prospects to landing pages? Then you should have a bot on that page, folks! Yes, you may have a form, but don't miss out on an opportunity to attain a lead! Add a simple lead-gen bot that makes a content offer prospects can't refuse.
Page Type: Awareness and / or Consideration
FAQ Chatbot. People ask questions. Use an FAQ chatbot to answer them. Chatbots are a choose-your-path tool so map out the most common questions and answers and provide links allowing visitors to navigate to the answers they seek.
Page Type: Awareness and / or Consideration
Knowledge Base / Resource Chatbot. Again, help prospects get the information they need based on where they are in their unique buyer journey.
Page Type: Awareness and / or Consideration
Calendar / Meeting Chatbot. Yes! Sales teams need this chatbot. Set meetings, set up sales calls, get out of email and automate it! Your sales team will thank you.
Page Type: Decision
Chatbot Scripting Know-How
You've made the decision to add a chatbot, and you know the page you want it to live on, now you have to build the bot. How do you get started? Map it out. There are several tools and software options that can help you map out chatbot scripts, but there's nothing wrong with down 'n dirty Google Sheets / Excel.
In fact, take a look at our simple chatbot script template now:
To dive a little bit deeper into scripting for specific types of bots, take a look at our in-depth piece: Chatbot Scripts: A Step By Step Guide (With Examples & Templates)
Chatbot Quick-Start Tips
Create unique experiences for every user and segment by mapping out sequences
Download our 1-Page Tip Sheet: How to Write Chat Scripts
View our Chat Tree Sample now and get started writing
Consider adding personalization for an amazing user experience
Reach out (via chat) if you have any questions and best of luck with your chatbot!