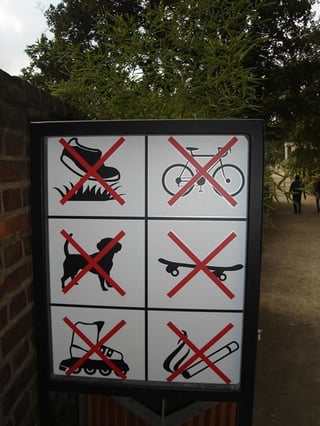 A picture is worth 1,000 words. Just think about it. One provoking image of war, love, or even a product offers a better description and representation than pages of text. That's true whether you're talking about a history book or a website. And yes, you're reading this image right. Nothing is allowed.

Online articles with images every 75-100 words get double the amount of shares as articles with fewer images, according to Buzz Sumo. Even more interesting, Buffer revealed that images get 567% more inbound links than text-only content.

People are visual. Period. So, what's the key to using images, especially in industries that aren't typically visually interesting (manufacturing, insurance, healthcare, etc.)? The key is to remember that whether you're in a boring industry or not, adding images to your website and online content is what separates you from your competitors, at least, as long as you use your images correctly.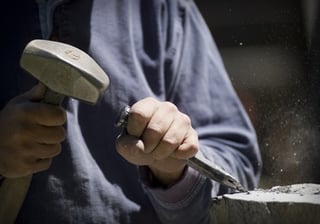 To ensure your images bring in more customers, instead of scaring them away, we've compiled a list of dos and don'ts for image use—yes, even for your boring company!
Do Use Images for Your Marketing Goals
Image use shouldn't be something you do "willy-nilly." Every image you use on your website and within your blog should be tied to a marketing goal, and that means you need to understand how images work. It's no secret that the more images you use in your blog, the more traffic you'll get, but the images have to match your content and purpose. For example, if you're writing a blog about Procurement Best Practices you might think that no images fit. But that's not true. You can add a chart or graph to visually represent a statistic. You can add a funny comic to add humor to a dreary and informational topic. You can even add a personal photo from your own office to show the blog in action. The key is to consider what images match the goal of your specific content and then to find images that will help you reach your goal.
Don't Forget Quality Over Quantity
Yes, even though one image every 75-100 words is a recommended best practice, that doesn't mean you should forget about quality. Images that are too small, blurry, or pixelated look terrible on screen and can make your customers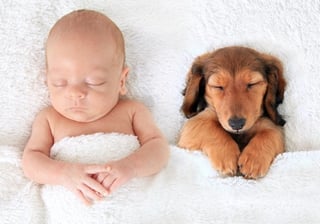 turn away. The same goes for irrelevant images. While puppies and babies might be big attention grabbers, if you can't make those images work with your content they're worthless.
And remember, you can think outside of the box. Images can be anything from screenshots of websites to charts, graphs, candid photos, memes, logos, headshots, maps, etc. Just make sure that no matter what image you choose, it's high quality and appropriate.
Do Use Header Images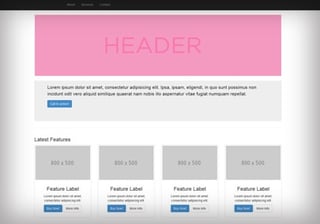 If you use no other images on your website or blog, you at least have to use header images. Header images are as important to the success of your goals as the actual content. A header is the first thing that your audience sees, and they're how you bring in the right audience to discover the value of your content. The right header also sets the right expectations. There are a few key elements that you should consider for every header image:
Use relevant lifestyle photos over ClipArt style images.
Choose photographs instead of images with text or logos.
Try to use more close-ups of faces instead of far-off action shots.
Use an image that matches your target audience (if you're a healthcare provider mainly for women, make sure a woman is in the image).
Focus on an image of the product and how it works.
Don't Discount Humor
Not all of your images have to be serious. Laughter is fantastic medicine, especially if your industry is boring. You can make your content and website entertaining by having fun with it. One great way to do this is through memes. Using a tool such as https://imgflip.com/ you can upload an image of your choice and type in text. It takes just a few minutes, and you can create a fun and inventive image that gets your point across in a unique and different way.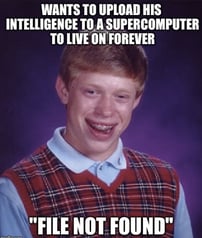 For example, let's say you're a data recovery company and you're writing a blog about how your Cloud software can ensure that every file is protected. You could add this ridiculous meme to bring some humor to a rather dull, but important topic.
Do Add a Human Touch
Images with faces perform better than images of scenery or abstract images. People like the human touch; it's hardwired into our DNA. The key is to make sure the faces work for you. Stock photos of fake, happy people don't inspire confidence or interest. Instead, choose images that are more natural and real. Also, when using images with faces, consider where their eyes look. Eye tracking studies show that your customers will look where the eyes of the image look. For example, if you want an image of your CEO introducing a new product, make sure he's looking at the product, so your customers will too.
Don't Forget SEO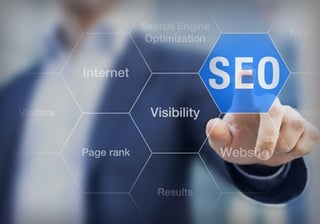 SEO isn't just for your text; it's also for your images. Every image you place on your website should be optimized for search engines. This means that each image should have:
A descriptive and keyword-rich file name: When it comes to SEO, your image should be saved with a keyword-rich file name that matches the keyword in your blog or on your website. For example, let's say you have an image of your manufacturing plant on your services page. The image should be saved with a name that someone would use in search such as "Car Manufacturer Company ABC" or "Inside a Car Manufacturer."
An appropriate alt tag: Alt tags are small attributes that you can add to your images after they post online. Many times, your website will make the alt tags easily accessible, and other times you'll have to look at the source code. An alt tag should be the same as the file name and look like <alt="Car Manufacturer Company ABC">
The right dimensions: Images that are too large or don't fit your page can hurt your SEO. You also want to make sure that the right image size is used on each platform. Facebook uses a different image size than Twitter, and that's different than your blog. Look up the appropriate image dimensions for each site and make sure the image isn't too large to download quickly. Your clients/customers will only wait about three seconds for a website to load, and too large images can decimate load times.
Do Worry about Copyrights and Licenses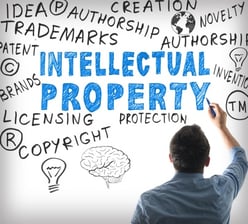 Ignoring copyrights and licenses can leave your company in a world of trouble. There's nothing worse than receiving a cease and desist letter and being dragged into a lawsuit that leaves you with hefty legal fees and a tarnished reputation. The first key to copyright protection is understanding the different image types:
Stock Photos: These photos are available from stock photo websites and typically require you to pay a fee. Before paying for access to stock photos check the restrictions, royalty-free images are the most liberal in their use options and can be found on sites like iStock and Shutterstock.
Creative Commons Images: These images typically offer free copyright licenses and generally just require the appropriate attribution before use. Check out Creative Commons for options.
And, if you're ever concerned about falling outside of copyright laws, the best thing you can do is write an appropriate attribution which includes the title, the author, the source, and the license.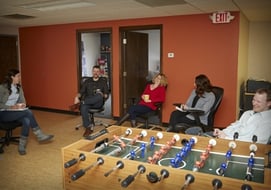 Do you have questions about using images for your website and content?
Stream Creative can help.