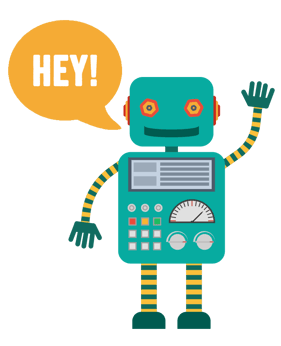 Chatbots can go a long way in improving your customer service and user experience. These bots can be used online in a number of different ways but one of the most popular uses is through Facebook Messenger.
The Facebook Messenger app has over 1.3 billion monthly active users and adding a chatbot to your Facebook is a great way to:
Meet the consumer where they are
Provide customer service
redirect the consumer to your website
We've compiled a list of five Facebook chatbots who are catering to their audiences' specific needs to create an easy and helpful user experience.
Before we dive in, let's cover some chatbot basics.
What is a Chatbot?
A chatbot is a computer program which simulates human conversations. Many bots reply to specific commands with pre-prepared responses. Others use artificial intelligence to create more specific responses.
Why are Chatbots Important?
Quick and efficient customer service - In this day and age, people like an immediate answer. With so many businesses finding ways to provide instant service to their customers, you can't afford not to at least consider chatbots. A friendly and helpful chatbot goes a long way to delight your customers and strengthen brand loyalty.
Less intimidating than talking to a person - If you ask a dumb question to a chatbot, the chatbot won't judge.
24-hour service - It's 3 am and you need to get an answer right now? Chatbots can help!
Less time consuming - Talking with a chatbot takes less time than emailing, calling, or searching a website for an answer to a question. Customers save time with a quick answer, and your employees' save time from answering them.
Streamlines the actions you want customers to take - Chatbots can be used for filtering to help direct prospects to the exact service or product they need.
Chatbots collect information without being too invasive - Chatbots allow you the opportunity to collect information on specific customers, which when used properly, can create a better user experience and help you close leads and improve sales.

There are a lot of unique ways to utilize chatbots to create a better user experience on Facebook Messenger, here are some Facebook chatbot examples to help inspire you!
1. Spotify
Spotify, an audio streaming platform, uses a facebook chatbot to help users find playlists. In this example, Spotify disables the ability for the user to compose their own message and instead provides them with several options to choose from and uses a gif in chat to show the user how it works. The bot will ask the user what kind of music they are looking for, then provide them with suggested playlists they can scroll through. Or the user can search for specific songs, albums, or playlists.
From here, the user has three options:
Follow the link to Spotify and begin listening to a song or playlist.


Share the song or playlist with anyone they are connected with on messenger.


Select "Back" and go through the process again to find something different.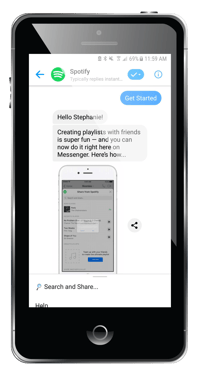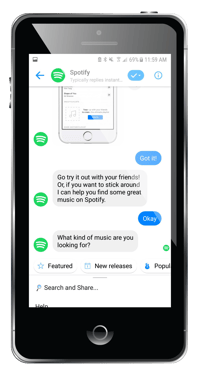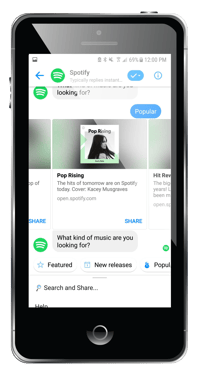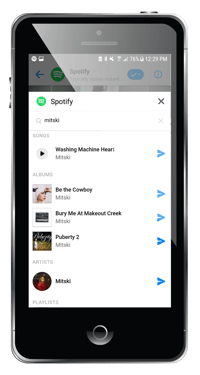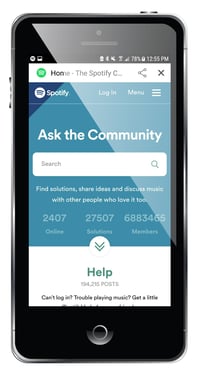 Each of these options benefits Spotify. Users are either leaving messenger to listen to music on Spotify, sharing a Spotify playlist with their friends, or staying in the chat loop. If a user is looking for assistance there are "Help" options that direct users to Spotify's Help Site or Spotify's Community Page.
2. Fandango
Fandango, a ticketing company that sells movie tickets, uses a Facebook messenger chatbot to help users find out what movies are playing, find out when and where it's playing, with the final action asking them if they would like to buy tickets which leads them to the Fandango site. At any point in the process, users can select "New Search" to start the process over.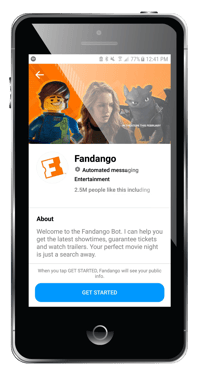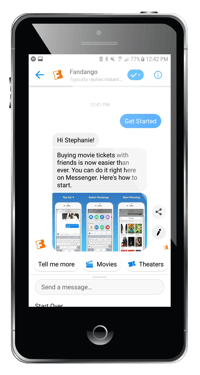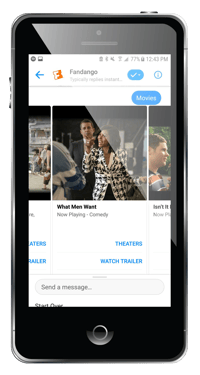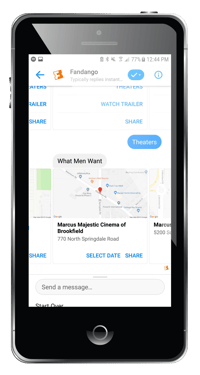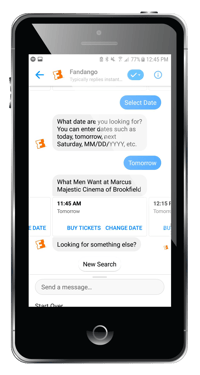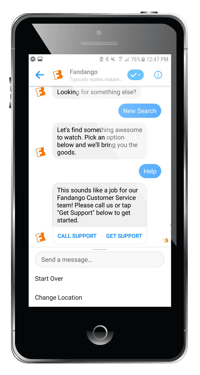 Similar to the Spotify bot, the Fandango bot provides you with several questions to ask which the chatbot has specific responses for. Unlike the Spotify bot, Fandango's allows you to write your own questions. This bot is programmed to recognize key phrases and respond accordingly.
For example, typing "help" will give you the option to talk to Fandango Customer Service.
Does your brand need a chatbot? Learn how to make your own here!
3. Sephora
Sephora, a chain of personal care and beauty stores, uses a Facebook Messenger chatbot to allow users to take several different actions. Once a user selects "Get Started" they are presented with four options.
1. "Try On Looks" which allows consumers to shop for products by types of looks (Smokey Eye, Natural, Monochromatic Warm, etc.). On mobile, this feature even allows users to "try it on" by accessing the camera and using a filter to give an idea of how this style would look on them. This option takes users through a cycle of trying out different looks and seeing the products used for the look or ending the cycle with an option to "Buy Now" which takes users to their site.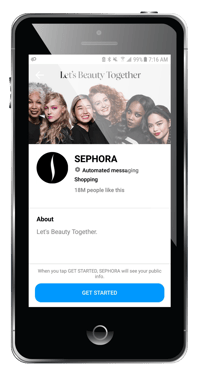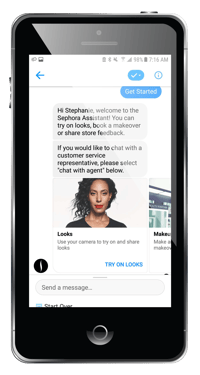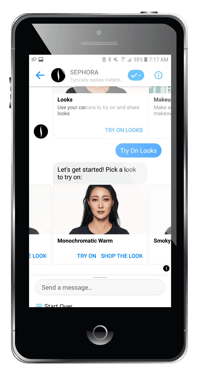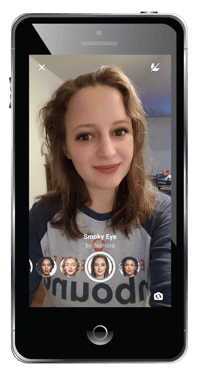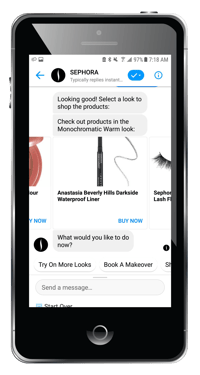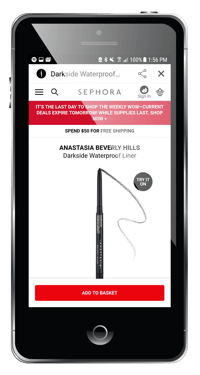 2. "Book A Service" which uses location to show stores nearby and sets up an appointment for one of their beauty services.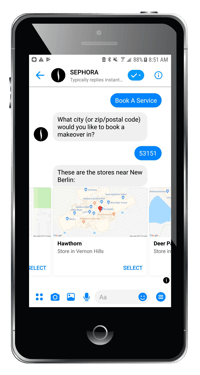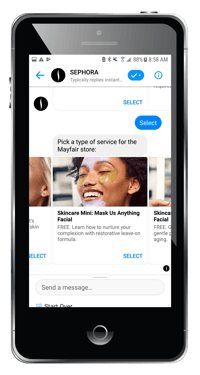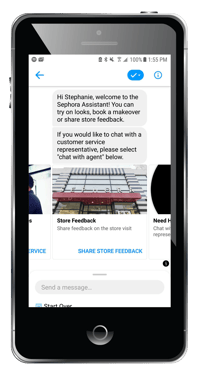 3. "Share Store Feedback" which allows users to leave reviews on stores.

4. "Chat With Agent" which puts users through with a customer service representative to chat.
4. Wingstop
Wingstop is a chain of restaurants specializing in chicken wings. Through a Facebook Messenger chatbot, users can either find a store, place an order, link to their Wingstop account, or chat with a customer service representative.
Similar to many of these other chatbots, this one uses location to find a store so that the user may place an order or get directions. Once a restaurant is selected users are given several order options to choose from and start building out food orders.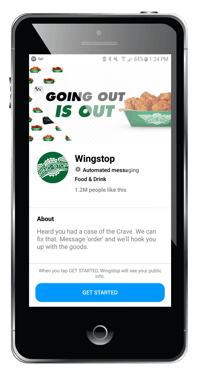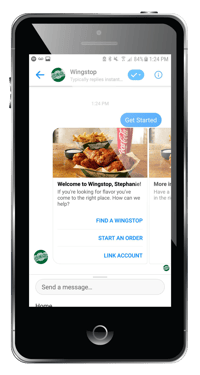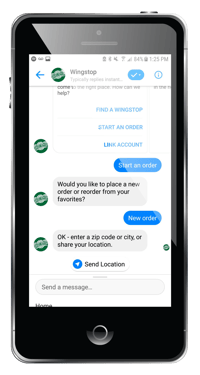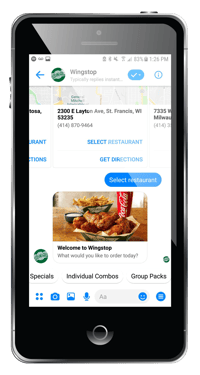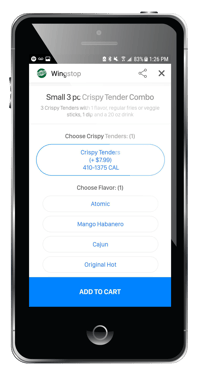 Feeling inspired? Start writing your chatbot script today!
5. The Wall Street Journal
The Wall Street Journal, a U.S. business-focused international daily newspaper, uses a chatbot to share news and podcasts with users. The user is provided with several news topics such as "Latest News" or "Today's Market", once selected, the bot will link to several recent articles related to that topic.
This chat does not provide an option to talk to a live representative, it is however unique in the sense that it provides you with a list of command shortcuts. These short commands trigger the chatbot to filter through articles to find more specific articles. For example, if a user is looking for live stock quotes they would type "$" along with the ticker symbol, or stock symbol, and moments later they would know how the stock is performing.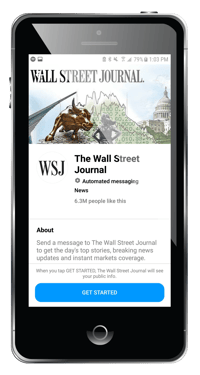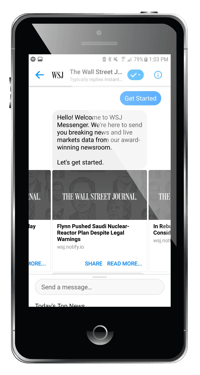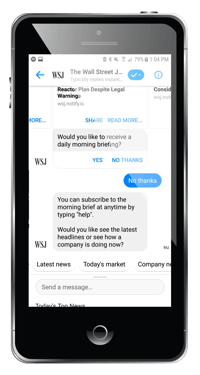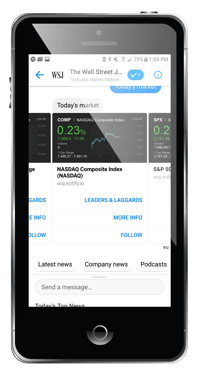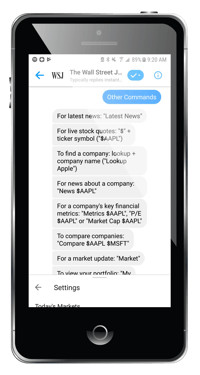 The option to see a list of command shortcuts is always available by scrolling down to "Settings" and selecting "Other Commands".
Starting a Chatbot for Your Business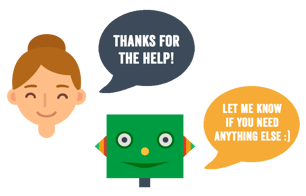 HOT TIP: Before you create your chatbot for Facebook Messenger, be sure your website is optimized on mobile. If your final "take action" option leads to your site and it's hard to navigate, all of your hard work creating an easy user experience through chat will be wasted.
In the above examples of Facebook Messenger bots for business, all five examples had the following in common:
They catered to a need unique to the services offered
They had a script which created a loop that kept users in the chat or directed them to a direct action
The key to a successful chatbot is creating a script which is helpful, meets user needs, drives to action, all while staying in your brand's voice. Learning how to write a chatbot script is an essential step to build an effective chatbot.
You can view a step by step guide on how to create a chatbot script (with examples and templates) here!
Our step by step guide also has a downloadable tip sheet to help you write your first chatbot script, so you can get started on creating memorable user experiences right away!
Best of luck to you!