The Stream crew just got back from Inbound 2013 in Boston, MA and while we had our fair share of festive gatherings and entertainment, the most incredible part of the week was hearing about HubSpot's new solutions for lead tracking and tackling. CEO and Founder, Bryan Halligan and Chief Technology Officer and Co-Founder, Darmesh Shah introduced the inbound experience and content optimization system along with a useful email marketing tool, Signals.
Halligan said at the announcement: "We started HubSpot to replace annoying, interruptive advertising with inbound marketing: marketing people love. Along the way we realized the customer experience doesn't end with marketing. Today's buyers behave differently, and that means you need to transform how your organization not only does marketing, but also how you approach sales and services. We believe that people on the front line of sales and customer service deserve tools, like Signals, that make their interactions with your website visitors, leads and customers more relevant and effective."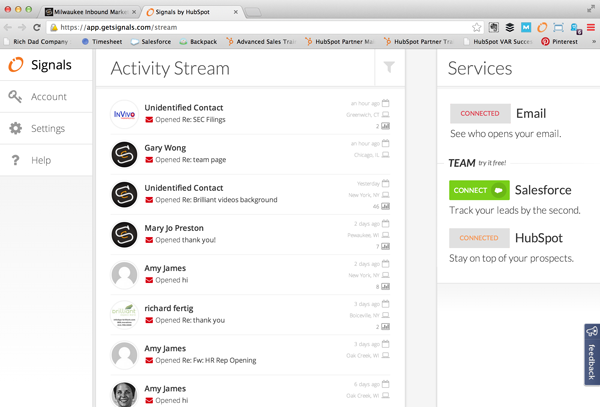 We've been testing out this free tool for a couple of months now and love what it has to offer. Check it out and you'll see how it works to help you integrate customer experiences beyond marketing to include sales and services.
What?
Signals helps you know when and how to communicate with leads and customers. With this tool, you receive real-time alerts from a number of different sources including: emails you've sent, your website, customer relationship management and social media.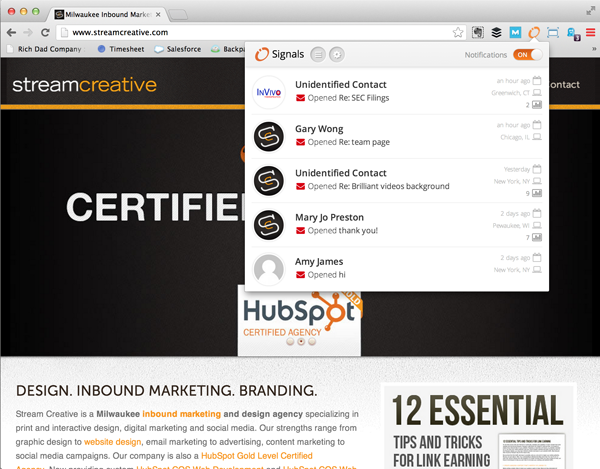 Why?
We oftentimes hear from our clients that their marketing department feels misaligned with sales. One is not communicating with the other or providing the necessary information to best cultivate leads or service customers. The reality is customers do not lean on sales representatives the same as they have in the past. They are knowledgeable and resourceful when it comes to finding the information they need themselves, connecting with sales reps later in the decision process.
Using the Signals tool can be beneficial for integrating and evaluating sales and marketing efforts while engaging leads and customers earlier in the sales lifecycle. Some of the features that support this include:
Lead Revisit Notifications: Notifications right on your desktop when a lead returns to your website. The best part… you can see the research a prospect is doing, when they're doing it, and what they may be interested in.
Email Open Notifications: Email open notifications shows you when an email you have sent is opened or clicked. (This feature is available when you send your email from Gmail, Outlook Web Access, or Outlook.com)
Salesforce Email Open Notifications: If your CRM is Salesforce, you can track the emails you send from Salesforce. Notifications will be sent when new leads are assigned to you. This is great because a quick response rate with new leads helps speed up response times.
LinkedIn Integration: Mark LinkedIn contacts as VIPs and receive notifications when they interact on LinkedIn, for example when they change jobs or titles.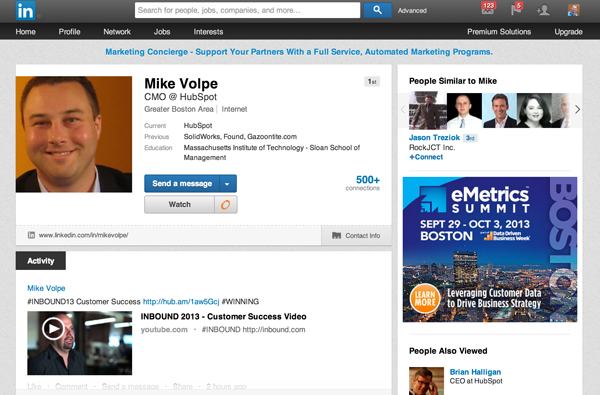 How?
If you are a Stream Creative client, we can help you get started with Signals. If you want to check it out right away, it's a simple tool to implement by going here to learn more.
Anyone, Stream Creative / HubSpot customer or not, can use Signals for free to get notifications about email interactions. You'll get up to 200 email notifications for free every month; and if you want to get unlimited notifications, to get lead revisit alerts from HubSpot, or to integrate your CRM system, you can do that for just $10 per month, per person.
Created with the salesperson, account manager, and marketing representative in mind, Signals is a fantastic resource – and the best part about it is that it's free, easy to setup and an incredibly insightful tool. To learn more about ways to create a more personalized experience for your leads and customers, download our FREE e-book, 5 Ways To Create Dynamic Content.