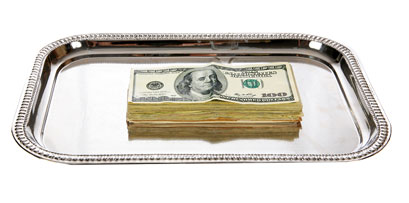 I like to think of a great content marketing plan like an exceptional server at your favorite restaurant. There are a few key ingredients that go into creating an effective content marketing plan that serves up more visitors, leads and sales.
1. Add Personalization
An exceptional server will greet you by name, remember your drink of choice, your favorite dish and probably something about your family or work. They make every attempt to connect with you on a personal level.
Your content marketing should do the same thing. Leverage the information you already know about your visitor to make the content more personal. For example, if you know their industry, display only case studies related to that industry. If you know what products or services they are interested in, based on pages they've visited or materials they've downloaded from your site, then offer them related content.
HubSpot's COS makes personalizing your website possible. They key is to gather the right information from your visitors (via the forms they fill out) and then to leverage that information naturally in your communication with them. The goal isn't to creep them out - it's to make their content experience as personal as possible.
2. Be Customer-Focused
Imagine if when you walked into a restaurant they forced you to order THEIR favorite meal. As soon as you sit down, your server immediately places meatloaf and lemonade in front of you and lets you know that he or she will be bringing pumpkin pie over shortly.
That's not a terrible experience IF you love what they're serving up, but it certainly isn't what we're looking for in our dining experience. What makes it great is that we get to choose based on our likes and dislikes.
Everything about a great restaurant and a content marketing program should be customer-focused. That means we have to take the time to really get to know our audience. We need to develop accurate buyer personas that guide us in the content that we create.
Think about the content you serve up. Is it what your audience is looking for or are you serving them meatloaf and hoping they like it? Track the content that is getting the most views, shares and engagement and create more of what you're audience is looking for.
3. Offer Multiple Courses
A fine dining experience usually consists of multiple courses. But even if you're eating at a local diner, your experience is still served up with multiple touch points. When you first sit down at your table, your server starts with your drink, then possibly an appetizer, then the main course and potentially a dessert.
Each of these courses varies in portion size, presentation and certainly taste. Treat your content marketing the same way. Serve your audience content in a variety of "courses", such as:
Bite-size social posts (ie: Twitter, LinkedIn, Facebook, Instagram, Pinterest, Google+, etc.)
Blog Posts
Videos on YouTube
eBooks, Tip Sheets, Whitepapers
Webinars, SlideShare Presentations
Podcasts
The goal is to offer your audience a variety of content options and for you to find out what resonates with them. If you only served up one style of content, you're missing the opportunity to measure other channels that could be more effective in communicating with your audience.
4. Don't Ask For Their Credit Card Upfront
We all know that restaurants are in business to make money, yet a great dining experience doesn't feel like just a transactional relationship. They don't hand us the check before taking our drink order. They wine and dine us first and then "ask for the sale." And if the food and service was good, we often times don't mind paying a premium for it.
I personally don't look at servers as salespeople. But isn't that what they are? They provide a product and service and then bill us for it. And they often try to "upsell" us on dessert - they just happen to do it politely and what they're "selling" is inline with our tastes - they know this because they took the time to ask and listen.
Content marketing should act in the same way. The goal should ultimately be focused around generating sales but it should be done in a way that is appetizing and appealing to our audience.
Take the time to build a relationship with your audience. If you provide them with a great experience, they'll be happy to pull out their credit card and possibly a gratuity for a job well done. Just be sure to leave a mint on the table.