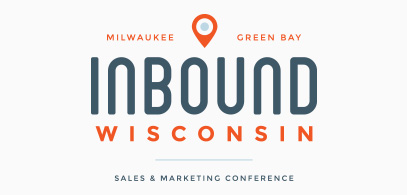 Inbound Wisconsin is a conference that will give sales and marketing professionals the opportunity to learn strategies with highly actionable instruction that is guaranteed to help businesses grow. The event is in collaboration with HubSpot, Google, Relevance.com and other leading technology companies.
Wisconsin marketing agencies, Stream Creative of Milwaukee and Weidert Group of Appleton, have opened registration and announced the speaker lineup for Inbound Wisconsin – a statewide conference for marketing and sales professionals. With the event presented in its entirety in two locations on two different days, attendees will have a hard decision to make when choosing one of two iconic locations including Milwaukee's Miller Park on Wednesday, June 3 or Green Bay's Lambeau Field on Thursday, June 4.
The dynamic lineup of event speakers include leaders from all areas of marketing, sales and technology:
- Mark Roberge, HubSpot CRO and author of The Sales Acceleration Formula
- Chad Pollitt, VP of Audience, Relevance.com, #5 on Top 100 Content Marketers
- Ryan Panzer, Google Adwords Strategist
- Elise Ramsay, Wistia Community Manager
- Caitlin Moyer, Director New Media, Milwaukee Brewers
- Jeff Coon, Partner, Stream Creative
- Greg Linnemanstons, President, Weidert Group
- Steve James, Partner, Stream Creative
- Frank Isca, Partner, Weidert Group
"Our partnership with Weidert Group for Inbound Wisconsin allows us greater geographic reach to share high-impact strategies from some of the best thought leaders in marketing and sales," said Jeff Coon, Creative Director and Partner at Stream Creative. "Both days will include action-oriented takeaways with insights, approaches and tools that attendees can immediately apply to help grow their business."
Early bird registration for Inbound Wisconsin is now open through April 30, 2015, and general registration will be open until June 2.
For more information about event details and to register for Inbound Wisconsin, visit www.inboundwisconsin.com and follow @StreamCreative and @WeidertGroup on Twitter #InboundWI.