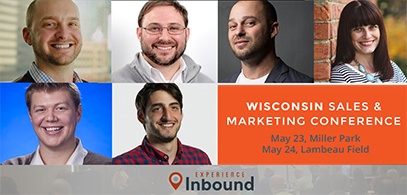 Each year, our team at Stream Creative is proud to issue our picks for the top Midwest marketing and advertising conferences. With budget and short-distance travel in mind, we've lined up a great list for 2016!
Take a look at some of the best marketing conferences and advertising conferences in the Midwest and find the right, budget-friendly option for your team.
In addition, be sure to check out our recommendations for a little team-building fun before of after the conference. What's a road trip without hitting the best local stops?! Enjoy!
April 22, 2016
Marquette University
If you sit on the business-side of marketing or advertising, you might be looking for a different type of conference. The Corporate Communication conference will focus on ways in which corporations cultivate and develop talent to meet the challenges of the changing communication landscape. Learn more about the conference now.
Team Building Activity: Take a walk up the street to head into Milwaukee's downtown and chow down on some of Milwaukee's best food stops. From the Public Market in the Third Ward to Water Street Brewery, you are bound to find a great place to kick back with a beverage and some apps.
April 26-28, 2016
Chicago, Illinois
An impressive line-up of speakers will present on creating meaningful brand experiences through storytelling, proven ROI driving strategies and methods to increase social reach and engagement. Learn more about the Social Media Strategies Summit.
Team Building Activity: Pack up your Uber ride and head to the Shedd Aquarium to get lost in a sea of fish and marine life.
Wednesday, May 18, 2016
Potawatomi Hotel & Casino Expo Center
Choose from 18 strategy seminars to help you grow your company and finish the day listening to a lively discussion of former athletes who have successfully transitioned from sports to business. Learn more about the Biz Expo.
Team Building Activity: Why not stay the course and do some gambling right at Potawotomi! From off-track betting to delicious eats, black jack and slots, Poto, as the locals call it, has fun for all.
May 18-20. 2016
Minneapolis, Minnesota
Often considered Midwest's premier content strategy convention, Confab content strategy conferences teach you to create, deliver, and manage content that's meaningful, adaptive, and measurable. Learn more about ConFab.
Team Building Activity: You can't go to Minneapolis and not visit the Mall of America. Shop till you drop, right?
(Pick your preferred day and location)
Monday, May 23rd, 2016
Miller Park - 1 Brewers Way, Milwaukee, WI 53214
Tuesday, May 24th, 2016
Lambeau Field - 1265 Lombardi Avenue, Green Bay, WI 54304
Experience Inbound is a full-day sales and marketing conference designed to help companies learn to attract and close more opportunities using inbound marketing. Attendees will participate in four of six planned "deep dive" sessions led by experts in key areas of inbound marketing, from attracting new leads to conversion optimization to paid targeting and closing strategies. Catch speakers from Contently, Wistia, OpenView, Google and Hubspot. Learn more about Experience Inbound.
Team Building Activity: When is comes to Wisconsin, having the opportunity to explore both Miller Park and Lambeau Field is any sports fans dream come true. Breathe in the championship air, pick up some team gear and just say you've had the opportunity to be in the same place as past and current sports legends.
Friday, June 26th, 2015
St. Paul, Minnesota
A full-day conference focused on forward-thinking strategies and tactics related to digital strategies, SEO, social media, PPC, analytics and more. Learn more about the MN Search Summit.

Team Building Activity: Minnesota has a few food staples that are worth trying. The Juicy Lucy is a famous hamburger with cheese melted in the middle, available at Matt's Bar. Another great option: Kramarczuk's Deli and Restaurant. Featured on numerous television shows as a top food destination, the order of the day should be the combo platter, trust me.
June 15-17, 2016
Chicago
Designed by retailers, for retailers, CRCM is designed to bring retailers together to openly share their Marketing and CRM strategies, ideas, and challenges in a casual and comfortable environment. Featuring Keynote speaker Seth Godin, amount others, this conference is sure to hit the market for your retail growth. Learn more about CRCM.
Team Building Activity: Take a conference break and explore historic downtown Chicago, the Magnificent mile and the Chicago Riverwalk!
August 29-31, 2016
Chicago, Illinois
A conference designed exclusively for people who make websites, An Event Apart Chicago is an intensely educational learning session for passionate practitioners of standards-based web design. If you care about code as well as content, usability as well as design, An Event Apart is the conference you've been waiting for. Learn more about An Event Apart.
Team Building Activity: Chicago, done right, must include a trip to Pizzeria Uno, where the original deep dish style pizza -- a crispy short dough crust, topped with cheese first, then crushed tomatoes -- was invented in 1943.
September 6th – 9th
Cleveland, Ohio
Content Marketing World is a content-focused event that will provide you with the tools and materials you need to take a content marketing strategy back to your team – and – to implement a content marketing plan that will grow your business and inspire your audience. Learn more about Content Marketing World.

Team Building Activity: If you love food, you'll love Cleveland's famous West Side Market. The market is home to over 100 vendors of great ethnic diversity.
October 8th, 2016
Milwaukee, Wisconsin
PR + Social Media Summit sheds light on topics such as content strategy, customer engagement and media relations. Community managers and PR pros alike will walk away with inspired strategies and best practices. Learn more about the PR + Social Media Summit.
Team Building Activity: Head off campus to the original Sobelman's, or go to their newest on-campus location for the best Bloody Mary's in town.
December 6-8, 2016
Chicago, Illinois
Celebrating their 14th annual event in Chicago, ClickZ Live brings together over 500 digital marketers and business leaders to lead the discussion across all aspect of digital marketing and business strategy. Learn more about ClickZ Live.
Team Building Activity: Take your team out for some holiday light fun along the Magnificent mile!
Are there any additional conferences we should add to our list? What event are you looking forward to attending in 2016? Share and let us know!