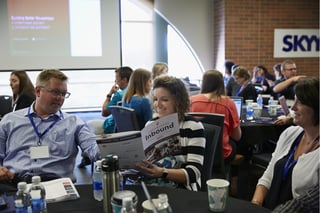 Looking for a little marketing spice in your life? Our team here at Stream Creative has put together a full cabinet of information and opportunities. We've created a list of the top 10 Midwest marketing conferences assured to put the pep in your step and leave you feeling like the marketing wiz you are.

Peek through our list and find a conference that's the best fit for you and your team in terms of distance and price. Don't forget to mix work and play! We've also come up with some team building suggestions to help make these conferences events to remember.
Social Media Strategies Summit
April 30 - May 2, 2019
Chicago, Illinois
Get the most out of social media by learning the best practices. Speakers include several representatives of today's most successful brands including McDonald's Global Social Engagement Campaign and Advocacy Manager, Elly Deutch. Get trained on how to be the social media guru you've always wanted to be. Find out more here.
Team Building: Take a break from all that tech and explore historic downtown Chicago on the Chicago Riverwalk.
CONFAB
April 23 - 26, 2019
Minneapolis, Minnesota
This event is all about content strategy. Spend three days learning from keynotes and breakouts discussing analytics and performance, user experience, content management systems and so much more! Get the scoop here.
Team Building: Ride a roller coaster, visit an aquarium, buy some new socks, and make sure you do it all at the same place! The Mall of America is a must visit for anyone passing by Minneapolis.
CRMC Chicago
June 5 - 7, 2019
Chicago, Illinois
This conference was created by retailers for retailers to share their marketing and CRM strategies, ideas and challenges. Fast-paced events filled with attendees representing over 150 retail chains make this an abundant learning experience. Discover more here.
Team Building: Building a marketing strategy is like building a work of art. Get some inspiration at the Art Institute of Chicago.
Experience Inbound
(Pick your preferred day and location)
June 3, 2019 in Milwaukee Miller Park
June 4, 2019 in Green Bay Lambeau Field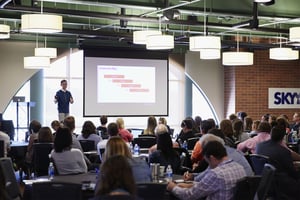 Both events are full day sales and marketing conferences designed to help you learn to attract more opportunities and then seal the deal with the help of inbound marketing. The focused curriculum helps you get the most out of your time so you can lead the way in sales and marketing strategy. Learn how to give your content value and use it to inspire your visitors to act. Find out more here.
Team Building Activity: Learn about Wisconsin's proud sports history and visit the Green Bay Packer Hall of Fame right outside of Lambeau Field. Or once you've seen all there is to see at Miller Park, take the free Miller Brewery Tour only a mile away.

The 2019 MnSearch Summit
June 21, 2019
St. Paul, Minnesota
This event is pure marketing fun for those living the agency life or those working independently. Topics covered during this experience include SEO, PPC, social media, email, content, video, analytics and much more. Discover what else it has to offer here.
Team Building: Why not make it a learning trip from start to finish? Be sure to visit the Como Park Zoo & Conservatory or The Science Museum of Minnesota. Or if you prefer to mellow your brain out after a busy day, try exploring downtown Minneapolis.
An Event Apart Chicago
August 26 - 28, 2019
The Westin Chicago River North
An Event Apart Chicago is two days of sessions from speakers with intense focus on digital design, UX, content, code, and more. Find more info here.
Team Building: After making all those duck faces for your profile pic on your website, make some fishy faces at the colorful creatures in the Shedd Aquarium.

Content Marketing World
Sept 3 - 6, 2019
Cleveland, Ohio
Ready to bring your content marketing to the next level? Of course you are! At CMWorld 2019 you can expect breakouts and hands-on labs designed to help you grow in the content marketing industry. Click here to learn more about the event.
Team Building: Get some grub at Cleveland's West Side Market, or else rock out at the Rock and Roll Hall of Fame.
Inbound 2019
Sept 3 - 6, 2019
Boston, Massachusetts
HubSpot's Inbound event is one of the largest (if not the largest) marketing event with over 20,000 people annually. Inbound marketing is all about celebrating the human, helpful side of business. Inbound 2019 will help you build strategies focused on the big picture and help you recognize new opportunities. With over 200 educational breakout sessions, you're sure to find a lot a insights specific to your needs! You can learn more about these sessions and what else the conference offers here.
Team Building: Not ready for the learning to end? Why not take your team on a self-guided tour down the Freedom Trail?
Digital Summit Chicago
August 28 -29, 2019
Chicago, Illinois
Digital Summit is here to teach you thought leadership and practical solutions designed to supercharge your customer strategies. They'll cover content, SEO, email, design, strategy and so much more! Build your storytelling strategy and start improving your results! You can view more information about their conferences and a full list of marketing resources here.
Team Building:
Wind down after a long of events by taking a stroll down Navy Pier. Enjoy some rides, buy a new outfit, catch a show, or just relax and enjoy a fireworks show.
Content Jam
October 28 - 29, 2019
Chicago, Illinois
Content Jam is Chicago's largest content marketing conference. Get the latest insights on creating, managing, promoting, and measuring your content marketing efforts. With help from some of the top marketers from across the country this conference is sure to help your content take on a life of its own. Learn more here.
Team Building: While your team plans their marketing future, take a break to explore the past. The Field Museum of Natural History is one of the largest museums in the world and offers a ton of exhibits to discover.
Did we miss your favorite event? Want us to make it a top 15 next time? Share and let us know!