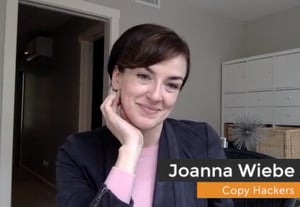 Do you ever find yourself stuck in a copywriting rut? Have you started a blog only to have it lose direction halfway through?
When you find yourself in this position, it's time to step back and reevaluate your process. Joanna Wiebe of Copy Hackers is in the business of helping copywriters and content marketers get better conversions. How? By helping them use repeatable writing models, formulas and techniques.
In this interview Joanna will give her take on:
The future of content.
Challenges that copywriters

face

and how to overcome them.
The secret to creating a powerful title or headline.
What tools she has in her secret writing toolbelt.
And an extra sneak peek into her Experience Inbound talk!
So don't wait another minute to improve your writing! Check out the video interview below.
Want to hear more? Join Joanna and hundreds of other marketers at Experience Inbound 2018! In her in-depth session, Content That Converts: What if instead of "Educating," you "made money", she'll discuss what kind of content turns prospects into customers.