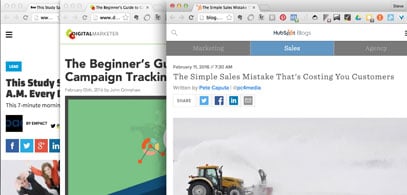 I love to nerd-out reading as many great articles as I possibly have time for throughout the week. I also enjoy passing them along to our team and others who I think could benefit from some of the great information I come across. This week's posts feature everything from the 7 minute morning routine you absolutely have to try to simple sales mistakes that could be costing you customers. These articles include inbound strategies, digital marketing, social advertising, content production and promotion, web design, public relations, events and much more. Here's this week's flashback:
1. This Study Says Stop Working and Do This at 11 A.M. Every Day – Inc.com
Brian Scudamore, founder and CEO of O2E Brands shares how one 7-minute morning routine has transformed his business. It's a simple, highly-productive daily pow-wow that could help make your team more efficient and connected.
2. The Beginner's Guide To Google Analytics Campaign Tracking – DigitalMarketer.com
If you aren't using Google Analytics to track the ROI of website traffic from email, social and advertising, you're definitely missing out on a wealth of information. This comprehensive post walks you through step by step how to get the most out of Google Analytics for campaign tracking.
3. Can SEOs Stop Worrying About Keywords and Just Focus On Topics? – Moz.com
The world of SEO can be confusing to say the least. In this video post, Rand Fishkin touches on the question: Should you ditch keyword targeting entirely? Rand sheds light on whether we should be optimizing for keywords and keyword phrases or going more toward topics, ideas and broad concept.
4. How To Build A Better Target Audience For Your Facebook Ads – SocialMediaExaminer.com
Are you using Facebook ads to promote your product or service? If so, you know how much testing and trial and error can go into segmenting the optimal audience. This post shares some key tips and tricks to help you build a better Facebook ad target audience.
5. The Content Promotion Manifesto: Getting The Most Out of Your Content Marketing – Chad Pollit via ArtilleryMarketing.com
If you use content marketing as part of your inbound marketing strategy and tactics, I absolutely recommend you follow Chad Pollit. He happens to be a friend of ours at Stream Creative and we love his recommendations for content promotion and more. In this podcast, Chad talks about his book and the dirty little secret you'll learn about content marketing: It's not just about quality. Without planned promotion of your content, you're almost guaranteed to have lackluster results.
6. The Simple Sales Mistake That is Costing You Customers – Pete Caputa via Hubspot.com
In this post, Pete discusses how the sales process has changed over the years with customers now having greater expectations for a positive customer experience. He goes in depth on the 4 steps to correctly set prospect expectations throughout the sales process to ensure positive outcomes on both sides.
7. 15 Scheduling Tools Successful People Use to Work Less – Nick Lucs via EmployeeSchedulingPro.com
We all have a million apps, right? But how many actually help you be more productive? In this post, Nick Lucs highlights his top 15 scheduling apps and tools to help individuals be more efficient, and work less at being productive.
What articles have you read this week that you found interesting or have saved as a good resource for your inbound and digital marketing initiatives?