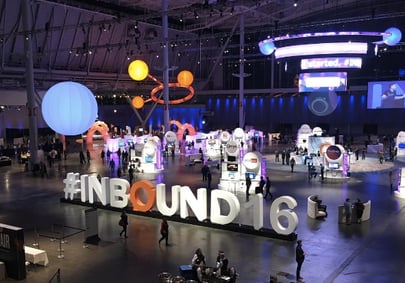 Two years ago, HubSpot unveiled their CRM software at the annual Inbound conference in Boston, MA. It forever changed sales and marketing alignment for businesses using HubSpot software for inbound marketing strategy. HubSpot's CRM was an incredible offering for our clients in need of an integrated CRM system, and we were happy to see consistent improvements made since its launch. This week at Inbound 2016, it was announced that HubSpot's product connection between sales and marketing is going to get even deeper. Here is a list of the 12 new and improved product features being talked about at Inbound this week.

1. A Redesigned Interface




HubSpot is creating a more clear and consistent look for its interface to be more in line with the tools we use (and look forward to using everyday) like Facebook, Instagram, Uber, etc. The goal is to make the software a pleasure for everyone on your team to use. The improved interface helps our team and clients have a more streamlined experience that ultimately saves time.

2. Visual Workflows:


The marketing automation tool just got easier to navigate and now features an easy way to build out complex workflows with a very simple drag and drop interface. Do you currently use diagrams and whiteboards to help wrap your brain around workflow steps? The goal of the new editor is to eliminate the need for additional boards and it allows you to do your visualization right in the software. You can also zoom in and out of certain areas of the workflows to get a better look.

Sales actions have also been added to help the CRM and marketing software to build better automations. This includes rotating leads, creating tasks and more.

3. Reporting Improvements:


HubSpot has made significant improvements to the reporting function including new metrics and improved campaign reporting that will provide insights that no other analytics tool can. This helps connect the dots between sales and marketing data to help tie the whole customer journey together.

Content insights and top of the funnel insights are now available with more traditional analytics in a very clean HubSpot-style dashboard. A lot of the data previously obtained from Google Analytics can now be accessed via HubSpot.

4. Projects:


HubSpot Projects helps coordinate your team inside the tools you already use. It's a great solution for project management and incorporates HubSpot's world-class resources and methodology that are built right in. The tool allows teams to build project templates for campaigns that can be re-used for new campaigns or to onboard new employees. HubSpot also provides a number of off the shelf projects for an easy start.

5. Collaboration:


If you're a HubSpot CRM user, you know that the @mentions on the CRM is one of the best ways you can pull in and collaborate with other team members. Our agency uses this feature to help collaborate throughout the sales process between team members. HubSpot announced that it will now be integrating this feature among other software tools like content, etc. It provides a new way to collaborate with your team layered on top of some of the most important tools in HubSpot.

6. Unified Mobile App:


Marketing, sales, CRM. – everything HubSpot is now included in one awesome iOS app. HubSpot calls this a bit of a reset on their mobile strategy which includes the ability to take calls, notes, check key metrics, place calls and more.

7. Composer:


The new Composer function is designed to help you create the content that your prospects and customers want. It de-couples composition flow and editing layout / tweaking before publishing and allows you to keep the two different activities separate. It helps you stay free of distractions and lets you focus on the content only.

8. Collect:


A big step in content creation is idea collection and having a place where you can retain, and share ideas, is incredibly valuable. HubSpot's new Collect tool allows your team to collect, organize and leverage content you find across the web. You can then grab these ideas and insert them into drafts. It's a lot like sticky notes or Evernote, but incorporated right into the software.

9. Facebook Ads:


Facebook ads can be an incredibly effective aspect of your inbound marketing strategy. It has certainly been a tactic used among many of the campaigns our agency has assisted with in recent years. Facebook Ads will now be an extremely important add-on to the Ads Add-on within Hubspot. This tool can help calculate the real ROI of your Facebook Ads to help you improve your campaigns and run them more efficiently.

10. Meetings:


HubSpot Meetings allows sales teams the opportunity to set their availability and provide a link displaying their calendar that can be embedded on your website. Additionally, marketers can use a sales rep's link in workflow emails. It allows content and workflows to automatically do prospecting which saves sales representatives' time. Think about using smart content to place the right calendar on a specific page.

11. Messages:


We live in a world where customers and prospects want immediate response to their questions without having to pick up the phone. HubSpot Messages allows you to connect your sales team with interested prospects and customers on your website in real-time. A HubSpot owner record is applied to individuals who use the live chat feature, so the right sales person shows up to chat with that prospect or customer in real time.

12. HubSpot Marketing Free:


LeadIn is now a core part of the HubSpot marketing platform. It is a tool to help you get to know your website visitors and automatically get insights into everyone who fills out a form on your site. The tool has now been rebranded as HubSpot

Marketing Free and is seamlessly integrated into the

HubSpot

product. Prospects can start with the HubSpot Marketing Free product to test it out, get value and then easily make the decision if the paid product is the right fit for them.

From attracting leads to converting customers, HubSpot helps marketing and sales professionals bring the whole sales funnel together. These new product enhancements and tools create less hassle, more control and an inbound strategy that works.

What aspect of the HubSpot marketing platform and tools do you find most beneficial for your business?