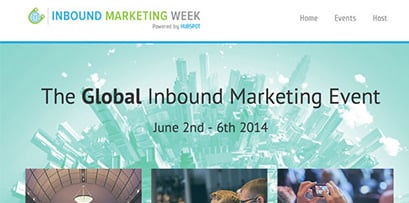 As if inbound marketing wasn't exceptional enough as is – it now has its own dedicated week where professionals from around the globe will unite. In partnership with HubSpot and Eventbrite, Inbound Marketing Week will take place June 2nd – 6th, 2014 with a series of events happening globally which will allow professionals to collaborate, share knowledge and ideas, best practices and trends. Whether you'll be hosting your own event or attending one in your area, here are 3 elements to help plan your Inbound Marketing Week:
1. Free Resources to Plan Your Own Inbound MarketingWeek Event
If you choose to host your own Inbound Marketing Week gathering, there are many free resources and tools to help you plan an informative, and awesome event. Events may range from conferences, workshops, coffee chats, lunch-n-learns, happy hour parties and more. HubSpot and Eventbrite co-wrote an incredible "Event in a Box" guide to help organizers pull together events that are sure to be a guaranteed success. The guide includes:
Checklist – what to consider when planning your event
The always important…event budget template
Event email tip sheet
Event registration tip sheet
Promotional guidelines
Content inspiration
2. Directory of Inbound Marketing Week Events Globally
One of the great benefits and resources for Inbound Marketing Week is the directory of events taking place globally. The directory provides a spotlight on organizations hosting events around the world and is a great tool for professionals looking for an event to attend in their area. From London to Maryland, Dublin to Chicago, Canada to Milwaukee – events will be hosted simultaneously in multiple cities and attendees can collaborate and share across an ocean by using event hashtag: #InboundMarketingWeek
3. Inbound Marketing Week in Milwaukee & the Midwest
There are a couple of great events planned to take place in Milwaukee and Chicago including the following:
- Inbound Marketing Day (Milwaukee): Hosted by Savvy Panda & BMA Milwaukee
Featured Speakers Include:
Dan Zarrella, Social Media Scientist at Hubspot
Oli Gardner, Co-Founder of Unbounce
Ezra Fishman, Director of Marketing at Wistia
Luke Summerfield, Director of Inbound Marketing at Savvy Panda
This event takes place Wednesday, June 4 at Potawatomi Bingo & Casino and will also include round table discussions and community submitted & voted tracks.
- Startup with Inbound Marketing (Chicago): Hosted by UrbanBound & Hireology
Featured Speakers Include:
Erin Wasson: Starting 3 Companies With Inbound Marketing
Erin Borgerson: Experience With Inbound Marketing
This event takes place on Thursday, June 5 at TechNexus and will also include an open session for questions and networking.
If you don't want to wait until June to get your inbound marketing fix, check out this great event coming up in May:
- Inbound Marketing Bootcamp (Neenah, WI): Hosted by Weidert Group of Appleton, WI.
Featured Speakers Include:
Ellie Mirman, Inbound Marketing Funnel director at HubSpot
Wayne Breitbarth, Author of Power Formula for LinkedIn Success
Jeff Coon of Stream Creative
Luke Summerfield of Savvy Panda
Greg Linnemanstons, president of Weidert Group
This event takes place on Wednesday, May 21 at the Bridgewood Resort Hotel & Conference Center in Neenah. Learn more here.
With so many great events, free resources and tools, Inbound Marketing Week 2014 is the perfect opportunity for experienced professionals or those hoping to learn more about inbound strategy, to network, collaborate and share successes. How do you and your colleagues plan to take part in Inbound Marketing Week 2014?