Networking is an effective way to meet new people in your industry and collaborate with them. This is a goal of the new HubSpot Milwaukee User Group – to teach, discuss, and brainstorm Inbound Marketing strategies, campaigns, and tools.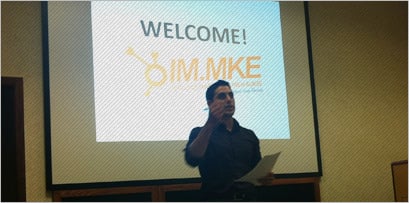 The group's first meeting recapped the biggest inbound marketing conference, Inbound 12, hosted by HubSpot in Boston. Our very own Jeff Coon had the opportunity to speak at this meeting, recapping the keynote presentation by Rand Fishkin, and discussed HubSpot 3, which was unveiled at Inbound 12.
From Rand Fishkin's presentation, How to Leverage SEO to Expand the Power of Inbound Marketing, Jeff covered the 12 biases and myths of inbound marketing. He then went into more detail on his top 5 myths and explained why they are, in fact, myths:
Ranking position is all that matters

The average Click-thru-Rate is 18.2% for top results in organic search
A CTR is influenced by more than the position in search results
Great snippets start with great titles, URLs, and descriptions, and provide value in the right niches

Active link building is required for SEO

The best links build themselves
Building relationships will help build links
Be great writers, influencers, and relationship builders

There can only be one topic

Focus on what your audience is interested in, not a narrow subject
Share what's valuable and relevant to potential and current customers
Create broad topics that will earn signals to help your entire site

Twitter and Facebook are the only networks that matter

Many social networks can be valuable such as:

Google+
Facebook
Twitter
LinkedIn
Foursquare
Pinterest

Don't just stay on Twitter and Facebook – go where your potential customers are

If a viral content effort fails, it's over

Content can be rebuilt and tested
SEOmoz launched a new version of the same content 4 times on the same URL
Viral content fails 9 out of 10 times – plan for it
Jeff also discussed HubSpot 3, which was launched at the inbound marketing conference. HubSpot 3 is a new marketing software that was built to help remove unnecessary steps in the marketing process, and to help grow your brand and contacts. Jeff covered a few of the newest features that all relate to providing content based on the lifecycle stage of the user, which include:
Smart Lists and Segmentation
Smart CTAs
Smart Fields
Workflows
Each of these new items allow the marketer to create rules that will trigger targeted communications and actions based on a lead's behavior, interests, industry, or other segmentations you choose.
Check out these videos from HubSpot about Inbound 12 and HubSpot 3:
Overall, it was a successful first meeting for the HubSpot Milwaukee User Group, with great discussion on inbound marketing steps and strategies. More events are planned. You do not have to be a HubSpot user to attend.
Are you interested in learning more about Inbound Marketing or HubSpot 3? Contact us to get started!