88% of the US owns a mobile device, and 25% of mobile users ONLY access the web from their phone.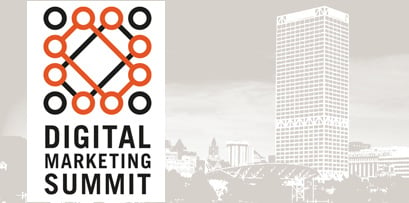 That's a pretty thought provoking statistic, shared with us by Pandora at the Digital Marketing Summit, hosted by Boelter + Lincoln in Milwaukee. At the summit, various speakers discussed how marketing and advertising has changed and evolved due to the rapidly growing world of technology.
Consider this: how have you adjusted your marketing and advertising campaigns and decisions because your audience has gone digital? How can you better your marketing to meet the needs of your audience based on their use of technology?
Five different speakers shared what they're doing as part of their digital marketing strategies. Here's a recap of their presentations and important takeaways that can be integrated into your digital marketing campaigns.
Beyond the Click – The Evolution of the Digital Advertising Landscape
Jenny Campbell, Vizu
Consumers focus on content, whereas brands focus on capturing attention – working to expand their reach and influence
In 1994, the hotwired click-thru-rate was 78%, while today's CTR is only .05%
John Lowell, former Starcom USA SVP/Director stated, "a click means nothing, earns no revenue, and create no brand equity."
Every brand has advertising goals, and they work to achieve those goals by:

Researching through panels or custom surveys
Measuring ad effectiveness – are they increasing awareness and reaching new audiences?
Case studies were also shared during this presentation, revealing how companies have effectively measured their ads and performance by capturing the audience sentiment through short online surveys through Vizu. Vizu uses their Ad Catalyst Survey Intercept, which allows for real-time brand metrics to happen before the campaign ends. This allows the marketer to adjust and tweak the campaign to achieve better results before the campaign is over.
The Future of Display – Engagement Everywhere
Ryan Manchee, Media Mind
We are "digital omnivores" meaning we are people who connect with content and brands through multiple channels and screens
On average, about 35 hours are spent watching TV
60% of people use smartphones or tables while watching TV
25% of consumers go online after seeing a TV ad
91% of traffic will be through video content
Move from Traditional vs. Online Marketing to Brand vs. Direct Response, focusing more on clicks and conversions
We must connect with consumers on a digital level – engaging, interacting, and rewarding
15% of billboards will be digital by 2015
We're moving away from assumed audience measurement to accurate audience measurement through the use of digital engagement
Our reality has been augmented because of the use of technology and the new digital means with which we have to communicate. We must work to adjust the way in which we share our brand to be more consumer focused, using digital devices to interact and target specific audiences with the right ad at the right time.
Mobile in a Digital World
Kim Luegers, Pandora
88% of the US owns a mobile device
1 in 2 people have smartphones
1 in 5 people own a tablet
25% of mobile users ONLY access the web from their phone
An estimated 600 million smartphones will be sold in 2012
$10 billion is estimated to be spent on mobile advertising in the US by 2016
Smartphones now account for 50% of all phones
Mobile is shopping of the future
More mobile users use their mobile device as a shopping list or for coupon downloads
Entertainment leads mobile purchases with small electronics and clothing apparel following behind it
In a nutshell, marketing and advertising tactics should be accessible from mobile devices, and should be user friendly on those devices. Brands can increase their awareness by utilizing apps that are accessed on a regular basis.
TV 2.0 – Online Video
Joseph E. Farrell, YuMe
Build your brand by connecting through videos – capturing attention through sight, sound, and emotion
There are more "screen" devices in the home now
37 billion click-to-play on a video a month
Connect TV is growing and will be a big player in the near future

Allows user to stream content on TV
Right now, the majority of people connect through games (Xbox or PS3) or Netflix
77% of households have broadband – an opportunity for tremendous growth
37 million US households currently own a connected device that allows them to watch digital video on TV
Eyeballs go first to faces and logos. Distractions are only going to get worse, so you have to go beyond the basic video. Sharing videos is growing, meaning they should be a way to share your brand information and reach a broader audience.
Cross-Platform with Digital & Geo-Targeting
Sean Kearney, The Weather Channel
163 million consumers use weather.com, and is the second largest mobile property behind Facebook
Adults 18-34 use and average of 7 media screens a day
Cross platforms work the best, such as TV, web, and mobile
Weather trigger ads is a great way to target a specific audience
Hyper Local Audience Targeting – allows you to enable consumer engagement at the right time and right location with the right message
Technology is opening more doors for digital and creating new ways to reach and connect with consumers. Traditional marketing or branding is limited to TV, print, and radio, whereas Digital marketing allows for a direct response and search through various display channels, such as video, mobile, social networks, and email.
Digital marketing is continually changing and growing, and can be used to a brand's advantage because it allows for a more targeted advertising, reaching the specific people in your niche, which will increase your brand awareness and grow your business.
How are you using digital marketing to build your brand? Share you success stories with us!