Small business are always looking to increase their search engine rankings and website traffic through various search engine optimization (SEO) tactics. Link earning is a great way to expand your reach, bring in more website visitors, grow your rankings, and develop online authority. There are four simple steps that should be followed to help you earn inbound links and be seen as a credible resource by Google.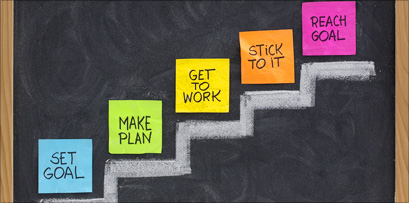 1. Develop a plan for earning links.
Research and determine from whom you want to receive links.

Who do you know in your industry that is a credible resource?
What other business could provide you with valuable inbound links?

Decide which pages on your site you want links to.

Narrowing down the pages can help you find the sources you would like the links from.

Determine how much time you will be able to allocate.

Set a realistic goal for the completion of the plan.
Look at your schedule and make sure you're going to have time to put towards this plan – it's going to take some time, effort, and patience.
2. Present your website as a link worthy site.
Create content that is worth linking to, such as:
Have offers available for every part of the buying process. (This is also connected to lead generation.)
Each page of your website needs to have a clear goal.

Focus on one topic/keyword per page, as not to confuse the visitors.
Guide the visitors to the next step by adding a call-to-action.

Overall, your website should be a positive user-friendly experience.
3. Build strong relationships within your networks.
Use social media as a way to connect with those from whom you want links.

Make yourself visible to them by commenting on and sharing their information.
Mention them directly when you share their content so they receive a notification.
LinkedIn is a great source for finding professionals within your industry.

Leave thoughtful comments on blog posts.

Use your real name when commenting to add more value and credibility to the comment.
Only comment on posts that you are genuinely interested, so that you can leave a thought provoking comment, and possibly start a discussion.

Go to the actual store or business of the source you want the link from.

Most people generally remember a name when they can connect it to a face. If you go into the store and meet the owners, the more likely they will remember you and be willing to connect with you further.
Meeting in person allows you to learn more about the business environment, which can help deepen the relationship. This can also help you determine if the business is as credible as they appear online.
4. Follow through with and implement your link earning plan.
Combine everything you learned about your sources and contacts, and start implementing your plan.
By following these steps, you'll be on your way to earning more links and increasing your search engine rankings. Just remember that you won't receive inbound links overnight. It takes time building relationships, earning trust, and being seen as a credible source. Start slowly in small numbers and then slowly increase over time as you begin seeing results.
How is your business connecting with others to earn links? What has been working for you?