Small businesses are always looking for opportunities to grow their network and build strong lasting relationships. Having a solid network helps to increase awareness and build your brand, which can help bring in more website traffic.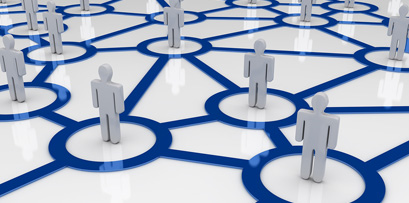 Guest blogging is one of the best ways to build high-quality relationships that benefit both you and the guest blogger. With guest blogging, you can generate inbound links for your website, which helps with search engine ranking.
Follow these 5 simple steps to help you find guest blogging opportunities and earn inbound links.
1. Identify keywords and a page on your website.
Find one keyword with more than 100 monthly searches
Find keywords with a difficulty between 70 and 95
Find the page on your website for which you want to rank for this keyword
2. Perform a Google search.
Search for the keyword and check out the top 10 pages in the search results
Record each URL in a spreadsheet
3. Find current links.
Find who is linking to the 10 URLs
Sort by the domain authority
Document the top 5 URLs
4. Identify opportunities for you to write for others.
Find relevant content
Read their articles
Understand the goals of their website
Use this information in the email you will send
5. Find contact information and write the email.
Find the email address of the person to contact in regard to writing a guest blog post for them
Include that you are interested in writing for them and building a relationship
Keep a spreadsheet of contacts you email
You can follow this format when writing the email:
Hi (FIRSTNAME),
Nice to meet you. I've been doing some research on bloggers in THEIR INDUSTRY, and I found your site (THEIR SITE NAME) when researching websites writing about SOMETHING ABOUT THEIR INDUSTRY. I work at WHERE YOU WORK, and WHAT YOU DO. I'm always looking to expand my network in the marketing world, especially in places I'm not yet familiar with like WHERE THEY ARE FROM. OR REWORD IF IT IS CLOSE BY/YOU HAVE A CONNECTION.
I've just published a (WHERE YOU WANT A LINK TO) and wanted to see if I could produce a piece of content or an article for your blog about TOPIC for your blog. Or, if you'd like to exchange guest posts and also write something on our blog (YOUR BLOG) in return for an inbound link to your site, that would also be great. We're always looking for new colleagues, friends, and work together on things.
Let me know, or feel free to reach me at YOUR EMAIL if you have any questions.
Best,
INSERT YOUR NAME
INSET YOUR TITLE
INSERT YOUR WEBSITE URL
Hopefully, after sending the email, the contact will allow you to be a guest blogger on their site, and in return, you may be able to have them write a guest post for you as well. Remember, when writing your blog that any links you add should go to the one website page on your website for which you want the specific keywords to rank.
When all is said and done, you should be well on your way to building and expanding your network, as well as earning high-quality inbound links to your website.