Today HubSpot released it's fifth edition of the State of Inbound Marketing Report. This 2013 edition is 164 pages jammed with stats, key insights and takeaways on inbound tactics and strategy that any marketer or business should review. This report is the most comprehensive review of the inbound industry available, with data analysis from over 3,300 participants from 128 different countries, including CEOs, agencies, and marketers.
Here are 10 quick insights on the current state of inbound marketing from the report in the embedded slideshare below:

As a HubSpot Certified Partner Agency since 2010 we have truly embraced an inbound marketing methodology for ourselves and our clients. Integrating a holistic, data-driven strategy to attract and convert visitors into customers has been essential to our clients growth. We've seen that companies who reach their customers through personalized and relevant information can consistently engage, measure and close leads into customers more effectively. And in turn, build long lasting customer relationships and brand evangelists.
Below we listed out a few of key takeaways directly from Chapter 1 "Are You Inbound?" of the report that will help you in reviewing your inbound marketing strategy.
Inbound has achieved a majority market share:
The majority of marketers have embraced inbound strategies. In 2013, 60% of companies have adopted some element of the inbound methodology into their overall strategy.
Adopting an inbound philosophy requires strategy integration:
Marketers who have embraced inbound recognize that success depends on shifting marketing's overall focus and weaving inbound's content-rich, customer-focused strategy through all your business practices.
In 2013, marketers generally embraced that goal, with 81% of companies reporting some level of integration between inbound marketing and larger marketing goals. In fact, only 5% were not integrated at all. Done correctly, we expect inbound strategies to help frame
global marketing strategy. However, as we have seen, some marketers continue to see "inbound marketing" as a separate channel – akin to email marketing, advertising, or other campaign-based marketing strategies.
Formalizing the marketing-sales handoff generates improvements to inbound ROI: We asked marketers what kind of agreements they have established with their sales teams. Surprisingly, only 24% of companies formalized their marketing-sales handoffs. Companies that establish shared marketing and sales responsibilities see clear improvements in their lead acquisition costs. In fact, the average cost per lead for marketers with a formal sales agreement is $24, versus $49 for those without.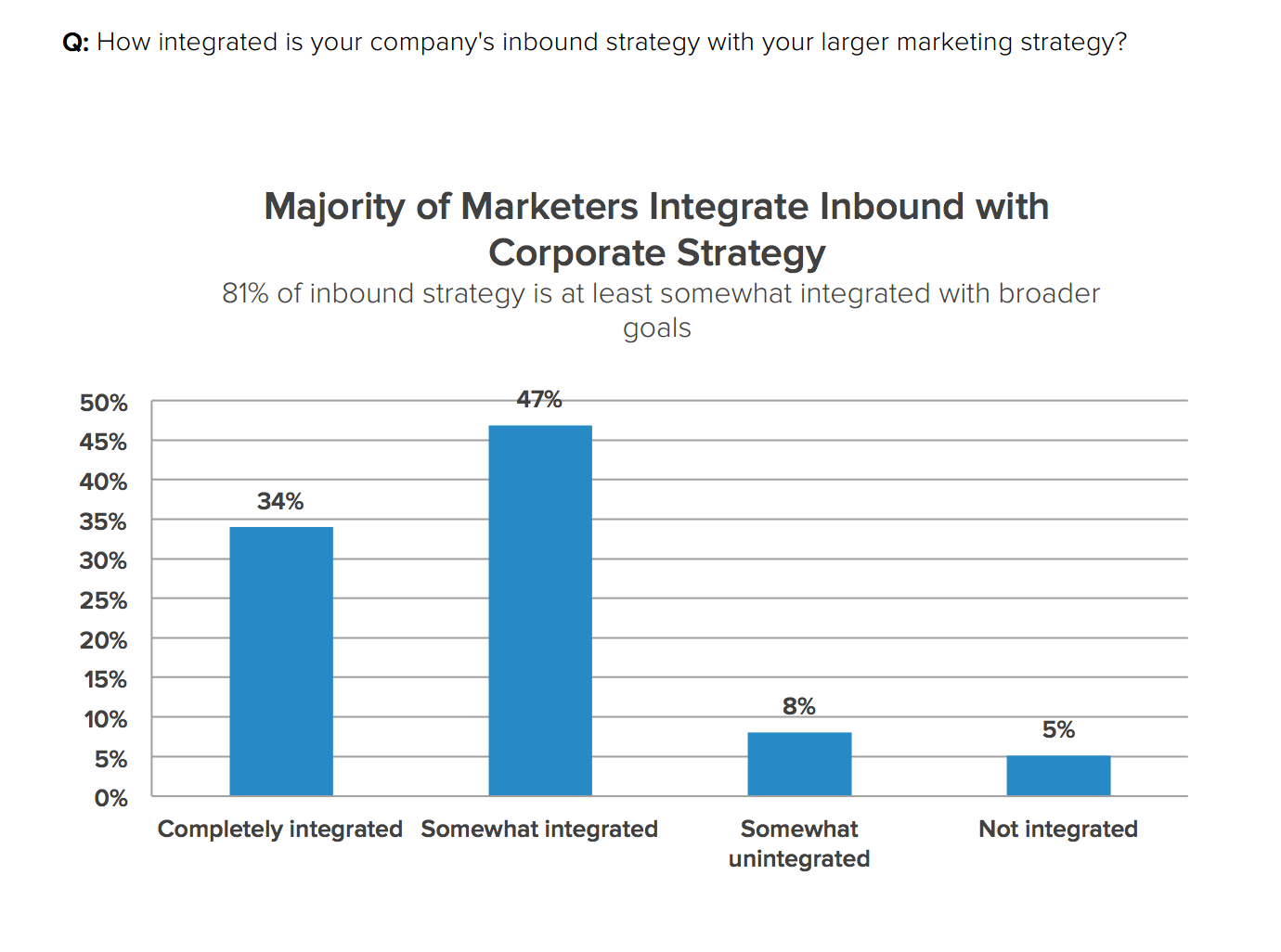 Define mutual goals and responsibilities for marketing-sales alignment:
There is a long history of pain and misalignment between sales and marketing teams – but they are not doomed to that fate. Develop a productive relationship between your marketing and sales teams by establishing concrete metrics and mutual responsibilities for both groups. To work in a real-world business setting, this relationship needs to be both concrete and immediate, and it must hold both marketing and sales accountable for results. It can't just be an abstract 30-day plan that neither team truly gets around to following. For example, create a service-level agreement (SLA). An SLA gives both teams a measure for success by defining expectations. It gives marketing hard numbers on how many quality leads to generate each month and sales a plan for how to follow up with those leads

The report goes deeper into why you should invest in Inbound Marketing, how other marketers are doing it, and how to build a successful marketing team. If you're a marketing data geek, you might want to sit down and relax with a nice cup of coffee and turn off distractions. You'll be in marketing data nirvana shortly. Download the free in-depth inbound marketing research report.
P.S.
Hubspot also created a new interactive website that captures the highlights of the report at stateofinboundmarketing.com.
Connect on Google+ with
Steve James