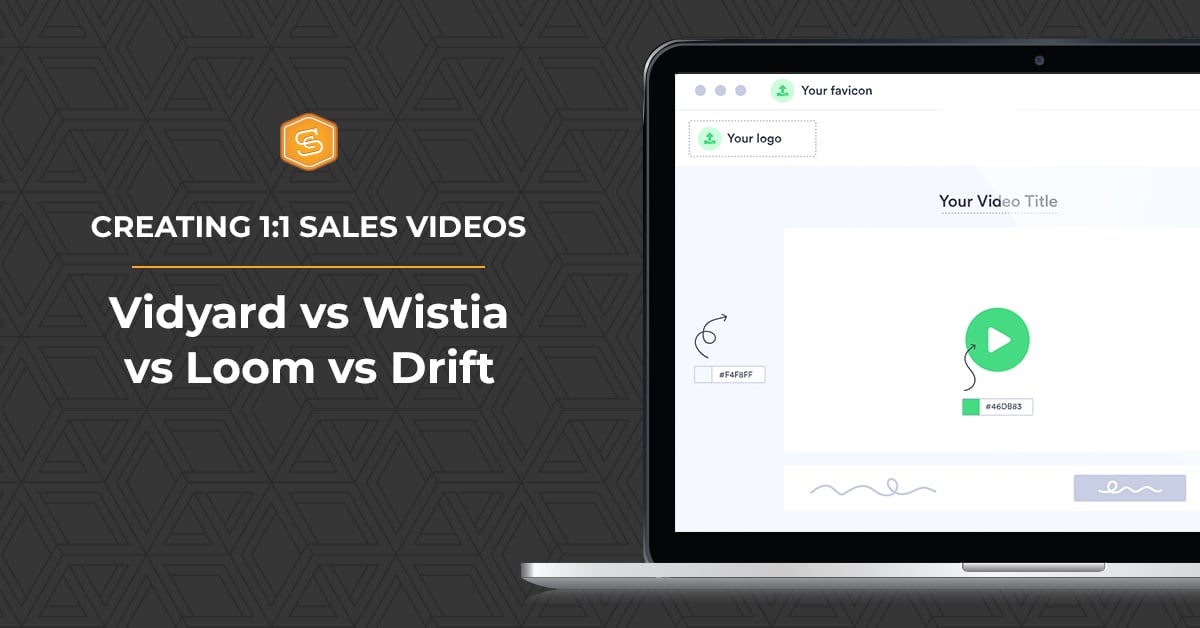 As more and more organizations choose to adopt a hybrid of virtual and in-person work environments, everything from happy hour to company meetings are being done using video platforms.

The sales landscape is no different.

The solution? Create highly personalized sales videos to reach your customers on a more personal level. In this article, we'll explore 1:1 sales videos and the platforms specific to creating them. Let's dive in!
What is a 1:1 Sales Video?
A 1:1 sales video is a personalized video created for one particular prospect or customer. The sales video messaging and scripts are highly personalized and focused on the unique needs of the target individual.

A 1:1 sales video should include:
A personalized greeting including the person's name.
A specific note about their company or their industry so it's clear you've done your research.
A focused message directed to meet their unique pain points or questions.
A friendly closing that keeps the door open for future discussions.
Think of this video as if it were a personal email you were sending out. Your main priority within these 1:1 videos is to create a connection, to earn trust, and ultimately, close a deal.

When you incorporate 1:1 sales videos in your emails, you're building trust and standing out among the competition.


What Are the Benefits of 1:1 Sales Videos?
Creating a sales video can be as quick and easy as writing an email. Especially once you get into the habit and flow of producing them. They don't even have to be fancy, just friendly and engaging. The fact is, using video in email is more interesting, human, and memorable.

Before beginning your video efforts, you should have goals in mind. What exactly are you trying to achieve with your videos? Awareness? Leads?

When you have this narrowed down, it will be easier to tailor your messaging.

There are so many benefits that come from these 1:1 videos:
Personalization: People perk up when they hear their name. So, by personally addressing your prospect or customer, you immediately grab their attention.
Ease of use: With just one click, your message is consumed. Your customers will appreciate how simple you made this for them.
Memorable experience: In a sea of 'same old' sales, providing a personalized video experience allows you and your business to stand out.
Authentic relationships: You're not creating a major production with these videos. They'll be shot from your phone or computer, and will seem more authentic.
Creating 1:1 sales videos is the perfect addition to your account-based marketing strategy or campaign. It adds a human element that is often imperative to a B2B marketing strategy.


A Unbiased Comparison of Sales Video Platforms
There are a wide range of sales video platform options available. We're going to break down some of the best sales video platforms to help you decide which one is right for you.

By using these platforms, the videos you create should be easily shareable to email, text messages, and social media direct messages.
Brief overview of the platform:
Video marketing software making it easy to find, engage, and grow your audience.

Cost of platform for sales teams:
Wistia offers three tiers.
Free: Comes with all their standard features. Create unlimited soapbox vids. Transition between webcam, screencast, and split-screen. Include a link at the end of your video. Customizable player colors. Unique thumbnail. Export videos to your Wistia account.
Pro: $300/year. Includes the free version's features. Plus downloadable, shareable videos, analytics to track performance, customizable video pages, use videos to book meetings.
Advanced: Contact them for pricing. All the features from free and pro. Plus, set default branding for your entire team, see views and engagements on all visitors, allows for multiple users on one video.
Key features:
Only the advanced tier allows integrations to some of your applications.

Overview of how to how to send a video through email:
Once the video is created, export to Wistia account

In the Share section, copy the thumbnail link to your clipboard, or just copy the URL
If you're sharing the thumbnail and link, use an email client with a rich text editor (Gmail, Outlook, and Yahoo all work great!).

You can also share the provided URL to your social media.

For email: Go to your Integrations page within Soapbox, check the Gmail integration box
Chose the video you want to share
Send!
Brief overview of the platform:
Record messages on your screen, camera, or both. It's faster than typing an email or meeting live.

Cost of platform for sales teams:
Loom offers three pricing tiers.
Free: Unlimited creators, up to 100 videos and screenshots, up to 5 minutes recording length. There is a free version for educators called Loom For Educators, as well.
Business: $8 per month per creator, which is billed annually. Unlimited creators, unlimited videos and screenshots, and unlimited recording length. There is a 14-day trial with no credit card required.
Enterprise: Pricing upon request. Includes everything in the free and business versions.
Key features:
Free: Features include screen and cam recording, BETA for screenshots, team library, and insights.
Business: Features include everything in the free version. Plus, video drawing tool, call to action, custom branding, engagement insights.
Enterprise: Offers everything in the free and business versions, SSO/SAML, advanced private content, Salesforce integration, SCIM
Overview of how to email a video

You have two options: Share via gmail integration (you must have the Loom Chrome extension for this) or through a clickable GIF
For gmail: Paste the Loom video URL into the Gmail composer. It will automatically expand with an embedded thumbnail.


Linked GIF: Open the video you'd like to share and select Linked GIF.
Click on thumbnail to share to your clipboard
Paste the link into your email.

Done!
Brief overview of the platform:
Vidyard is the best way to add video into your emails, website, and everywhere else.

Cost of platform for sales teams:
Vidyard offers four pricing tiers
Free: No credit card required. Record, upload, and share unlimited videos in just a few clicks.
Pro: $15/month billed annually, or $19/month.
Teams: $300/month billed annually.
Business: $1250/month billed annually.
Key features:
Free: Features include unlimited recording, unlimited uploads, share by email, social media, and more. Perfect for the individual creator.
Pro: Includes the same features as the free version. PLUS: password protection, replies to your videos, the ability to create a call-to-action. An affordable way to communicate more effectively with co-workers and customers.
Teams: Includes the key features found in both the free and Pro versions. PLUS: allows 3+ users, custom branding, full video analytics. An easy way to add video to sales and marketing.

Business: I

ncludes all the above features. PLUS: 5+ users, Fully customizable videos, CTAs, and CRM/MAP integration. The ability to generate more leads, pipeline, and revenue.
Overview of how to how to send a video through email:
Open the Vidyard app in your integrated email
Click either "create new video" or select one already created
To select a video
Use the folder dropdown to select video or videos
Use the selected tab to choose the order
Select the title to view it
Click insert to add to email, which will appear as a hyperlink
Tutorial of how to add video in email:
Add Vidyard To Chrome




Access the extension in the top right-hand corner of your browser




Open to compose an email

Select camera Icon for the Vidyard extension




Use the plain text mode (it should not be checked or highlighted)




To insert a video directly into your email:
Click New Video




To select a video already created:
Use folders dropdown
Select video
Insert into email
Your video will appear as a hyperlink
Brief overview of the platform:
Deliver an exceptional, personalized customer experience across all your channels.

Cost of platform for sales teams
Free: Includes one seat and workstation
Premium: $400 per month, and there's an extra $40 per month for additional chat seats. There is an additional $20 per month for calendar-only seats.
Advanced: $1,500 per month. $80 per month for additional chat seats. $20 per month for calendar-only seats. Comes with 1 seat and 2 workstations.
Enterprise: Custom quote.
Key features:
Free: Includes live chat, block user, email fallback, welcome messages, mobile and desktop app. Integrates with calendars, Slack, and Google Analytics. Basic reporting and help docs included.
Premium: All the free features. Plus, teams and inboxes, single sign-ons, basic role-based access control, custom chatbox, sliders and proactive messages, saved replies, conversational landing pages, target account engagement, custom branding, 10-hours per seat of chat-to-call, chat to Zoom, live view, Drift intel, routing to Round Robin, CRM, Team, Firmographic. Integrations. Client-side only API. Basic chat support, Drift Insider, dedicated Customer Success Manager. AI chatbots are also available.
Advanced: Comes with all the features listed in the free and premium versions. Advanced role-based access control, Drift audiences. All the routing plus advanced lead routing. All the integrations plus Eloqua CDO support, client and server side API/
Enterprise: Everything listed in the free, premium, and advanced versions. Plus, custom role-based access control. Chatbots that are multi-language, and multi-branded. Technical integration setup and 24/7 priority chat support.
Overview of how to email a video
Add the Drift Chrome Extension to your computer
Craft your email
Make sure the tracking is on, otherwise it won't work


You can only send to one recipient at a time.
The extension allows you to monitor and analyze the results
It doesn't matter which platform you chose as long as it works for you and your teams. The most important aspect of 1:1 sales videos is that you are going to be using the most effective tool to reach your target audience. Leverage video for that personalized, human approach to sales and watch your calendar book up.

Interested in learning more? We'll send you an email and introduce ourselves so you can see exactly how it looks! Contact us and ask for a video sample!