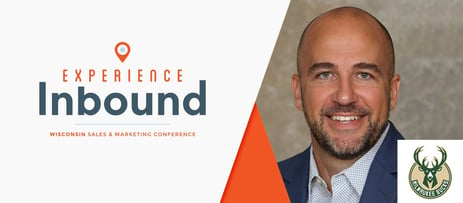 Few business professionals work for the same organization where they began as an intern. Chief Digital Officer for the Milwaukee Bucks, Mike Grahl, looks forward to entering his 20th season with the team that helped him kick-off his professional career in the sales and marketing department. "I was very fortunate to have the opportunity to start my career with an organization that has allowed me to grow, take initiative and learn everyday – which I am continuing to do today." Mike now oversees all digital marketing efforts for the organization which include team websites, mobile, social media, email & database marketing and much more.
As Mike looks to the years ahead, some of the most exciting aspects of his job include pivoting strategy to support incredible organization developments such as a new arena and world class entertainment district in downtown Milwaukee, taking part in the launch of the NBA's new 2K eSports league, and a new facility in Oshkosh to host D-League games for the Wisconsin Herd.
In this video interview, I had the chance to sit down with Mike in the Bucks' new arena preview center to discuss the many facets of the organization's digital strategy and some of his favorite tools to capture and analyze data. In addition, we touched on creating efficiencies in automation to support multiple departments within an organization and how B2C & B2B companies can implement these highly beneficial tactics. In his upcoming talk at Experience Inbound 2017, Mike will share more valuable insight during his breakout topic: Marketing Automation To Grow and Fuel the Sales Pipeline.
Learn more about Experience Inbound and Mike Grahl's breakout session talk here.