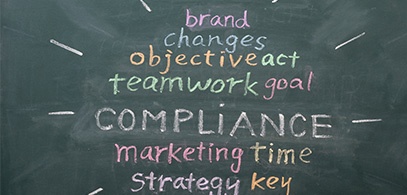 If your business is not in a highly regulated industry like healthcare, insurance, or financial services, you probably haven't given a lot of thought to marketing campaign compliance issues. Maybe you're in manufacturing or the tourism industry, not a hospital or bank – and your focus is on implementing the necessary campaign elements to ensure a positive experience for your customer.
You may have considered a few key marketing compliance elements in the past, like not selling your customer's information or making it impossible to unsubscribe from your emails. However, there are a few areas where compliance gets a little more complex, regardless of your industry. Here are five compliance issues that every business needs to keep in mind when creating a marketing plan and campaign:
The area where most companies deal with compliance issues on a near daily basis is email. The CAN-SPAM Act is well known and relatively easy to understand. Are you following all of the main requirements? Pay extra attention to the last one - if you rely on another company to handle your email marketing, you are responsible for making sure that the communications they send on your behalf comply with the CAN-SPAM act.
Don't think that getting consent for one form of communication covers anything and everything you want to send to your customers. Make sure that your opt-in clearly details what you plan to send. If customers agree to get text message appointment reminders from you, you cannot send texts about sales or special events without getting their consent for that communication as well. Again, this does not only concern industries like healthcare or finance where large amounts of private customer information are involved – in fact, one of the most significant violations among popular brands involved pizza!
Create a concise, easy to understand Terms & Conditions or Privacy Policy that covers every possible way that you may send communications to your customers. Make sure that it is easy to find on your website or social channels and link to it from the emails that you send.
Do you ever encounter the scenario where a customer unsubscribes, and then performs an action (orders a product, attends an event) that gets them back on your mailing list? You don't have to avoid this, just document how it happens, so that you can show compliance.
Staying up to date and informed on the changing regulatory environment is a critical way to mitigate risk. Regulators make frequent changes to compliance regulations and guidelines and communicate the updates in press releases and news bulletins.
Various campaign tactics such as text messaging and email are exciting marketing tools because they allow you to get your message directly to targeted customers at a low cost and rapid speed. These same features also lend themselves to be used in noncompliant ways that can have big costs, in the form of both financial penalties, as well as your reputation. Make sure that your marketing plan and campaigns are in compliance with both formal laws and informal best practices, and you will gain both your customer's business, and their trust.
Resources: ProofHQ.com | FTC.gov/tips | Callfire.com