The HubSpot CRM Has Changed How We Do Business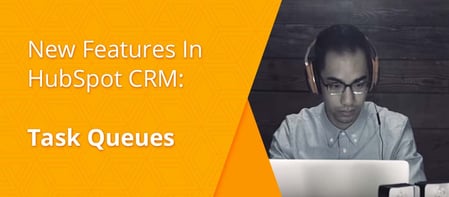 We were early adopters and one of the very first customers and partners to use the HubSpot CRM back in 2014. As a HubSpot certified partner, we were fortunate to have early beta access to test it out and we haven't looked back since. Prior to the HubSpot CRM, we tested a few other systems and almost pulled the trigger on SalesForce.
It was a good decision to wait and evaluate the HubSpot CRM because it was the absolute perfect fit for our team. We are slightly biased because we've been a HubSpot agency partner since 2010; however, the features the CRM provides have made for a seamless adoption - an area in which the others failed.
We, like many agencies, lacked a system to capture and understand our own data – something that is essential in the sales and nurturing process. By collecting and extracting past insights, we can better understand our own sales cycle and the prospects that were mostly likely to close / become a long-term client.
We invested in learning and implementing HubSpot's CRM system because it helped us:
Systemize our sales: With multiple people prospecting and following up with leads, the system helped us trust and rely on those team members who do it best.
Understand what motivates prospects: Tracking a lead's trigger points is a critical element of formulating a first conversation. Using the CRM allowed us to bring a lead's timeline into view and reference various points as we prepped for a conversation.
Set reminders: Investing in our own business can sometimes get put on a back burner when pressing client needs come first. However, like most businesses, we can't afford to let prospects slip through the cracks. The HubSpot CRM helped us prevent delays in communication by setting reminders and scheduling communication touch-points.
Evaluate what's important: Our HubSpot CRM encourages the team to focus on each stage of a prospect's buyer journey and pay attention to what is most important regarding a company or contact's needs, negotiations and revenue.
The HubSpot CRM has provided us with tremendous support regarding marketing and sales alignment since its launch. That said, there were a few areas we knew could be more robust and we were thrilled when the announcement was made recently that HubSpot Tasks would be updated to further improve productivity.
The purpose for the HubSpot Tasks update is to assist sales representatives with minimizing distractions and provide greater organization tools.
Here is a brief description of each update:
Task Queues
Task Queues make categorizing your to-do lists simple:
Create unique lists for each category of tasks. Categories can be segmented by priority, day, time zone, or anything else.
Tasks are simply added to your category queue with a quick drag and drop. You can also bulk-select groups of tasks.
Hit "play" for any of your categories / queues and your tasks will be presented one-by-one.
The system does not require you to navigate between the home screen and your contacts, companies, and deals. Hence – "No distractions." Allowing you to just focus on your tasks.
The Queues feature is something that sets the HubSpot CRM apart from other systems. It will allow our team, as well as our clients' teams the opportunity to stay on the cutting edge of technology.
Calling and Emailing from Companies and Deals
Calls, emails, meetings and follow up dominate most of a sales representative's day. Efficiency and success go hand in hand more so with this role than many others. The HubSpot CRM will now allow you to make calls and send emails directly from a company or deal record. Previously, you could only complete this task from the contact record. Minimizing the need to navigate from screen to screen makes connecting with your prospects even easier than before. Hopefully these simple updates mean greater efficiencies and increased sales for your team.

Create a Follow-up Task from Any Engagement
According to HubSpot, 80% of sales require 5 follow-up phone calls after the meeting, yet 44% of salespeople give up after one follow-up. Follow up seems to be one of the most demanding tasks a sales representative is faced with and it can take away from valuable time closing deals. With the recent HubSpot CRM updates, now every time you send an email or make a call, a super convenient checkbox will appear that allows you to create a follow-up task when you complete the activity. This eliminates the need to manually setup a reminder to follow up with prospects and always keeps your next steps in order.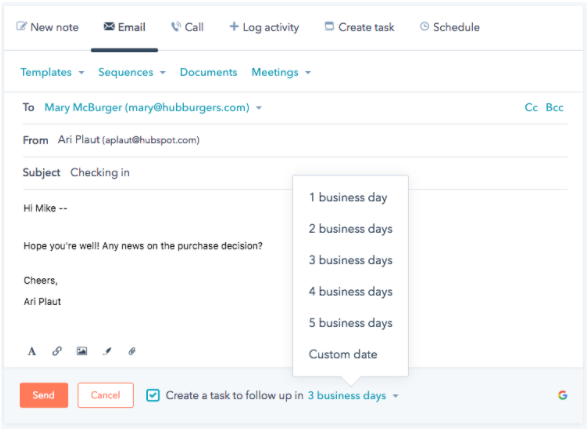 How will these updates impact your team?
Use Time Efficiently. Most salespeople spend only 30% of their time actually selling. Every second saved means more deals closed. The new HubSpot CRM updates allow you to get more done with less clicks.
Improve Productivity. By adopting the HubSpot CRM early on as an agency, we've not only improved our own productivity but we've also had the opportunity to introduce the tools as productivity resources to our clients.
Keep Next Steps Top of Mind. Next steps don't fall through the cracks with the new Tasks interface. When a lead comes in, all sales tasks are logged in the same timeline as marketing engagements. With everything in the same place, sales representatives never have to make a call without the right context again. Colleagues can also be tagged on individual tasks to create a dialogue and follow-up strategy.
The new tasks interface (plus task queues) are now available to all HubSpot CRM portals. As with all the other features of HubSpot CRM, they're free. Learn more about these updates or view a step by step tutorial.