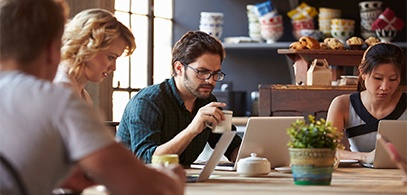 Content marketing can show great ROI for both B2B and B2C companies, so why do so many companies, even those with dedicated marketing departments, struggle with getting it done effectively and frequently? Content marketing is complex and always changing, and hiring the amount of skilled staff that you would need to do everything from writing to editing, to promoting and social-sharing, is time consuming and costly to keep all functions of content production and promotion in-house. Additionally, implementation of a strong content marketing plan can be overwhelming for many small businesses.
Many companies outsource similarly complex functions like accounting and human resources. Could outsourcing tasks for your content marketing needs work? No two businesses are the same, but here are 6 things to keep in mind when you are considering outsourcing:
The size of your marketing department: Do you have a small marketing department? Content marketing can take up a lot time: planning, research, outreach, promotion - and we haven't even gotten to the actual content creation yet! Can you afford the amount of time that your staff will need to spend on content marketing?
Your budget: Many companies worry that outsourcing elements of your content marketing plan will be too expensive. However, consider all of the duties listed in our first point. What would it cost you to hire an expert copywriter, graphic designer, web developer, promotional team, analytics expert, and creative planner? There are 3rd party resources that can help you with many or all of these areas.
Who you have on your current team: Do you have anyone on your team with the special skills needed to create content? There are probably more internal resources available to you than you think. Regardless of their department or role, if they are a product or service expert – tap into their knowledge and encourage them to be contributors. Creative writing, an interest in design or video, interviewing ability, and social media skills are a few of the proficiency areas you can look for (Side note: social media skills are easy to over-estimate. Just because an individual loves Facebook or Snapchat does not necessarily mean he or she has the skills to design, execute and analyze an effective social media plan. Their skills are still valuable, and they can be trained to be an essential part of your social media team, but it is important to consider your business' social strategy as an element of your content marketing plan).
What you are currently getting done, vs. what you want to do: Consistency is essential to seeing progress in all of your marketing efforts, including the world of content. Currently, are you updating your blog only monthly, or less? Are tumbleweeds rolling across many of your social media accounts? One big benefit to outsourcing is a guarantee that your content plan will be implemented, and on a regular basis that shows results.
The size of your network: A lot of content marketing happens beyond your website. Promoting your page in other places gets you traffic and links, which can improve your search ranking. Outsourcing your content marketing can give you access to the extensive networks and professional outreach skills that many companies have. They can use these PR skills and a new network (beyond the people that you already know) to draw attention to your business.
Your industry: Think you can't outsource your content marketing due to being in a complex arena like healthcare, finance, or insurance? Not true, but you do need to make sure that you find an agency or individual with experience in your industry. Another option is to look for a student writer, designer, or social media manager who is studying in your field.
Overall, it's important to remember that outsourcing your content marketing is not an all or nothing proposition. You don't have to hand over everything. If you are a decent writer, but struggle with getting the action you want to see on social media, get the help where you need it and keep writing. Look for a third party resource who will value your input and work with you as a true partner - remember, no one knows your business as well as you do.