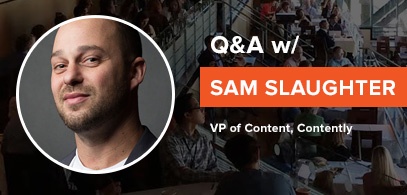 The past two decades have brought a definite transition in the way businesses and individuals share their story and position themselves as industry experts. The emergence of content production as an inbound marketing tactic has kept marketers incredibly busy over the last few years – so much that a lot of the content produced was done just for the sake of sticking to a consistent distribution schedule. Readers are now becoming more adept at cutting through the clutter and identifying a post that is just regurgitated information about the latest trending topic. What readers are looking for now are the pieces of content that set a brand apart – something that shakes up the industry or marries the brand with consumers needs through inspiring and in-depth storytelling.
In this Q&A interview with Sam Slaughter, VP of Content for Contently and Experience Inbound 2016 keynote speaker, you'll learn about the ongoing revolution of journalism, content marketing and some of the important metrics that will influence the continuing transformation of how companies view and implement content production and promotion.
What drew you to a career in journalism?
I always had journalists I looked up to and liked writing but never thought I'd actually pursue it as a career. When I was an undergrad I realized how much creativity goes into writing a nonfiction piece. I loved the combination of hard facts and your own voice. That's when I realized it was a path I wanted to go down.
How has your background in journalism made an impact on your work as a content marketing strategist? Was the transition a natural evolution for you?
My journalism background shapes the way I approach any content marketing project. The fundamental skills of telling a story that's useful, educational, or entertaining are very similar.
It's really about sharing informational stories with integrity and I like to think that that's what we do at Contently even if it's for marketing purposes. We deliver high quality content and forms of journalism, but just in the context of a particular brand.
I've been fortunate that my team at Contently also shares my passion for journalism with a capital "J." That's why we founded The Contently Foundation, which supports independent investigative journalism and trains junior journalists. I think (hope) as new media models proliferate we'll see more content-focused brands putting their money where their mouths are and funding journalism.
Marketing and sales alignment is a focus for many organizations. You talk about this topic in a recent post as well as some of the challenges your own team has faced. What are your biggest learnings in regard to taking content marketing beyond the marketing department?
In a growing company it's important that everyone makes a conscious effort to apply their knowledge across departments. Operating in silos is a recipe for disaster. Content marketers have a skillset, telling a brand's story, and it's logical that they would support other departments who need that skillset. But it takes work.
Marketing and sales alignment is something that comes more naturally because those teams should be familiar with working together. When it comes to supporting teams like PR, and HR it requires executive buy-in, clear processes, and cross-departmental communication especially in the beginning. Once team leaders begin to see better content being produced across departments and the positive results that come with that, your biggest problem should be figuring out how to measure the success of that content and optimize it to get even better results over time.
In addition to inter-departmental content producers, what are other sources for content marketing topics and ideas that you think are often overlooked?
Content ideation is still a big challenge for many content marketers. The key is to use what we call the "story matrix" when you're brainstorming topics to diversify your ideas. Divide your content between evergreen and seasonal content which you can plan for, and timely content which will have a quick turnaround time. Then within those areas, think of the story matrix as something that overlays the sales funnel. As a prospect moves down the funnel, the content you share with them moves down the story matrix, becoming more product-specific.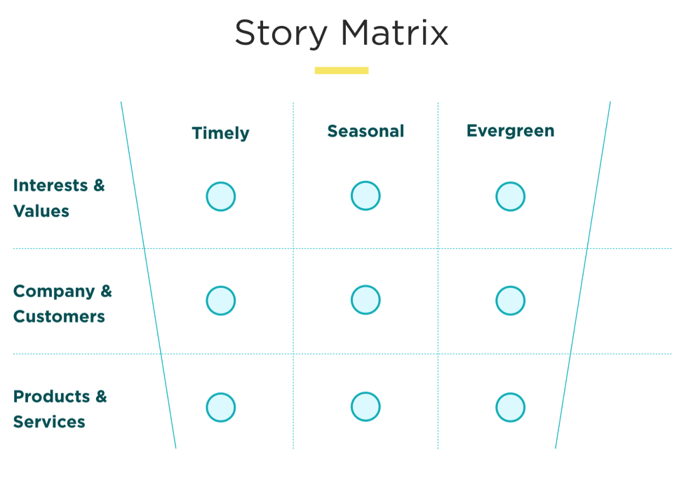 Once you have the story matrix in mind, look at what publications that cover your vertical are talking about - is there anything that's particularly well received? Is there anything that isn't being talked about enough? Hold a brainstorm with your team and come away with five great ideas in each section.
What are the most important / least important metrics for content marketers to track?
It's not about the metric itself as it's what you do with it. Software can throw a ton of data at you but how should you interpret it? For example, an article might have a ton of pageviews but low finish rate, that might tell you that you have a clickbait headline, which doesn't help to build an audience long-term. Or an article may have a lower number of pageviews but high engagement time and return readers, meaning those few readers may end up being the most loyal to your brand.
I would be wary of dismissing some metrics and valuing others. Individually they can be quite misleading, but when they're interpreted together it tells a much more accurate story about your content.
That being said, the most important metrics are the ones that suggest a relationship is being built, like engagement time and return visitors. This is probably the most important thing overall that you're going to want to measure, not any one particular metric.
What do you look for when hiring a content marketing strategist / writer?
I look for a lot of things, but mainly someone who is able to tell a story that will connect with people on a human level. The whole idea behind content marketing is that we see people as ends, not a means to an end. If we see our audience as just untapped wallets then we'll interact with them in that way as well -- and we've come to learn that it's not as effective. And frankly, that kind of marketing isn't gratifying for the marketer either.
If I can find writers that can create content that genuinely engages with people and inspires them, we're actually creating long-term connections that increase brand loyalty. If they can write something that they're just as excited to read then, I know they can make other people get excited about a brand.
Tell us a little about the Contently Foundation and the work you are doing to support aspiring journalists.
The Contently Foundation funds long-form, independent, investigative journalism. The internet has drastically changed the media business leaving a gap where investigative journalism isn't getting the funding it needs, particularly in mainstream media. The Foundation gives us an opportunity to bring these stories to the surface while supporting writers with a platform and the resources to write about important social issues. This type of journalism is vital to a functioning society whether it's profitable or not. We also have a training program for up and coming investigative journalists, because future generations need to have that skill set.
What are you most excited about for the remainder of 2016?
I'm excited about the growth of content marketing as an industry. A lot of the things we used to consider out there for advocating, like quality metrics beyond pageviews and staffing your marketing team with editorial folks, have become common practice for brands.
I love that content marketing is being taught in undergraduate marketing classes and people are appreciating how we're renegotiating the media landscape.
Freelance creatives, and upcoming marketers are all genuinely excited about opportunities they can pursue with content marketing that merges passions for tech, business, and creativity. The more of a community we build around content marketing means more collaboration and growth.
What is your #1 prediction for the future of content marketing?
One I've noticed is that the brand blog is officially table stakes. You're not wowing anyone with just a blog, even if it's a great one. Brands have been distributing content across channels -- blog, email, Facebook, LinkedIn, Twitter, Medium, native, etc -- but is the year that these channels become more than a place to push the content, they're their own destination.
Stay tuned for a ton of new buzzwords about this.
Have you ever been to Wisconsin? If so, are you looking forward to coming back?
I can't technically say I've been to Wisconsin because I've only driven through it for maybe 15 minutes. But I hear you guys have some great breweries out there, so I may have to check them out.
What is the #1 takeaway you hope attendees walk away with from your session at Experience Inbound?
I'd like people to walk away with the sense that they should challenge any and all existing notions in marketing. We have to ask ourselves the hard questions. How can content marketers contribute to making the media world better? What can we learn from offices down the hall and around the world? How can we help other departments that we didn't realize need great content.
Sam Slaughter will be keynoting Experience Inbound 2016 taking place in Milwaukee on May 23 and Green Bay on May 24. Sam will be alongside fellow keynote presenters Kyle Lacy, Vice President of Marketing for OpenView Venture Partners, Pete Caputa, Vice President of Sales for Hubspot, as well as many other dynamic sales and marketing presenters. For more information about Experience Inbound or to register, visit www.experienceinbound.com.