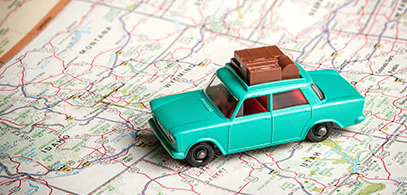 Scouring marketing conferences both near and far, we have compiled a list of the top 10 Midwest marketing conferences taking place during the remainder of the year. Finding marketing conferences that don't blow your budget is important, so we've focused on conference destinations that are road-trip friendly.
We've also taken the liberty to line-up team building activities you can do around town before or after you attend the conferences. So gather your team and choose your next road trip destination!
April 28-30, 2015
Chicago, Illinois
Dynamic speakers will discuss how to build and maintain social media plans and strategy with a focus on case studies. Learn relevant, real-life insights, best practices, tools and the latest technologies that will be essential to align your social media and business strategy. Learn more about the Social Media Strategy Summit.
Team Building Activity: Pack up the minivan and head a mile south to the Museum Of Science and Industry. Explore a submarine or get lost in a 1,800-square-foot mirror maze.
Wednesday, May 20, 2015
Potawatomi Hotel & Casino Expo Center
Learn operational insights on everything from financial planning and leadership, to marketing, social media, sales and technology. Learn more about the Biz Expo.
Team Building Activity: Head East, just up the street, for a visit at the Harley Davidson Museum. Featuring an amazing archive of motorcycles and history, you can see and even sit on, some amazing hogs.
May 20–22. 2015
Minneapolis, Minnesota
Often considered Midwest's premier content strategy convention, Confab Central offers big-brand Chief Content Officers, social strategists and more, teaching you the best practices for curating, managing and strategizing content campaigns. Learn more about ConFab.
Team Building Activity: You can't go to Minneapolis and not visit the Mall of America. Shop till you drop, right?
(Pick your preferred day and location)
Wednesday, June 3rd, 2015
Miller Park - 1 Brewers Way, Milwaukee, WI 53214
Thursday, June 4th, 2015
Lambeau Field- 1265 Lombardi Avenue, Green Bay, WI 54304
Inbound Wisconsin is a full-day sales and marketing conference designed to help companies learn to attract and close more opportunities using inbound marketing. Breakout sessions include industry leaders from Google, Relevance, Wistia, the Milwaukee Brewers, Hubspot and more. Learn more about Inbound Wisconsin.
Team Building Activity: Explore Wisconsin sports history at two landmark sporting venues including Miller Park in Milwaukee and Lambeau Field in Green Bay. Take a tour, buy some gear or just grab a bite to eat and look out over the field.
Friday, June 26th, 2015
St. Paul, Minnesota - Saint Paul River Centre
A full-day conference focused on forward-thinking strategies and tactics related to SEO, social media, PPC, analytics, content marketing and more. Learn more about the MN Search Summit.

Team Building Activity: If you've never been to St. Paul, take a stroll through Rice Park, just around the corner from the Saint Paul River Centre. The park features a large fountain and if you love architecture, views of the beautiful historic Saint Paul Hotel, Landmark Center and the Downtown Library.
August 31-September 2, 2015
Chicago, Illinois
A conference designed exclusively for people who make websites, An Event Apart Chicago offers focused educational sessions on web design. If you care about code as well as content, usability as well as design, An Event Apart is the conference you've been waiting for. Learn more about An Event Apart.
Team Building Activity: Take a conference break and explore historic downtown Chicago on the Chicago Riverwalk!
September 8th – 11th
Cleveland, Ohio
Content Marketing World offers attendees the opportunity to learn and network with the best and the brightest in the content marketing industry. The conference focuses on content marketing strategy and tools to help you implement a content marketing plan that will grow your business. Learn more about Content Marketing World.

Team Building Activity: Downtown Cleveland has lots of great attractions, including: the Rock and Roll Hall of Fame and Museum, Great Lakes Science Center and Progressive Field.
October 7th, 2015
Milwaukee, Wisconsin
Listen in as industry leaders discuss social media strategy, effective social content and leveraging social networks to build your brand. Attendees can look forward to insights on social media strategies, how to drive business results with social media and the advantages of bringing social media inside the organization. Learn more about the PR + Social Media Summit.
Team Building Activity: Head off campus to the original Sobelman's, for the almost award-winning Loser Burger and loaded Bloody Mary's.
October, 15th 2015
Minneapolis, Minnesota
The Minnesota Interactive Marketing Association is the oldest Interactive Marketing Association in the U.S. The annual conference focuses on content development, design, media, promotions and more. Learn more about the MIMA Summit.

Team Building Activity: Take a walk through Central Minneapolis and explore the area around the new Target Field.
November 17-19, 2015
Chicago, Illinois - Hyatt Regency
ClickZ Live Chicago is a marketing and advertising conference that focuses on increasing ROI and customer engagement using online marketing efforts across paid, owned and earned media. Learn more about ClickZ Live.
Team Building Activity: Follow the Chicago Riverwalk east, and have some fun on Chicago's famous Navy Pier.
Are there any additional conferences we should add to our list? What event are you looking forward to attending?