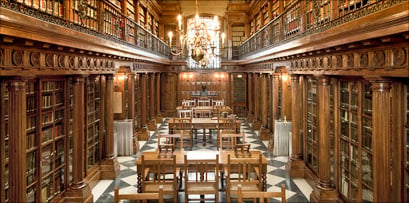 Do you have various types of content scattered throughout your website – in blogs or landing pages? Do you have a place where all this content can be organized? Such a place would be a resource center – a library of all your content. Every website should have a resource center for these reasons:
Provide educational information to your audience in an easy-to-find and consumable format. After all, education is the future of marketing. Education builds trust with your audience because you are showing yourself as the industry expert.
Resource centers demonstrate your thought-leadership, as well as creating a unique visitor experience – allowing visitors to find relevant content quickly.
Resource centers show the value of your information, which can help with lead generation. It also encourages content sharing.
Resource centers should guide the buyers' journey. Adding top-of-funnel content to the resource center, you are building awareness of your products/services, as well as attracting traffic. Using your middle-of-funnel marketing educates your audience through your content and show products and services that are valuable and beneficial for businesses. And finally, the solution and its value are revealed with bottom-of-funnel marketing and content, which is where a sale will hopefully be made.
Building the Resource Center
The overall goal of the resource center is to provide educational relevant content that will help generate leads.
1. Gather and organize your content.
Use a spreadsheet to track and categorize your content – whitepapers, webinars, ebooks, etc.
2. Create a resource center homepage.
List all your content by types.
List any and all new content.
Explain, in a professional manor, the purpose of the resource center and its overall goal.
Incorporate links to blogs next to relevant content.
3. Build out the content structure.
You need a homepage for each content type.
Add calls-to-action to content homepages.
The CTAs should link to related landing pages.
Use thank you pages. Add CTAs to continue guiding through the buying process.
Follow this structure:
Resource Center --> Content Homepage --> Landing Page --> Thank You Page
4. Allow social sharing.
Include social sharing buttons to encourage the sharing of your content.
Social sharing helps spread thought-leadership and brand awareness.
Include buttons on content homepage, landing page, and thank you page.
5. Promote the resource center.
Create CTAs and include them on:

Product/service pages
Blog
Emails
Thank you pages

Add resource center to main navigation on your website.
Include it in your lead nurturing emails.
Instruct your sales reps and customer service team to utilize the page and direct prospects and current customers to the page.
6. Find and create new content.
Create a landing page and ask what type of content your audience needs or wants.

Doing this engages with your community and will show that you're interested in their feedback and serving them.
You'll also be sure that you're finding and creating the right content.
7. Measure the page.
Measure the page on a monthly timeframe.
Analyze the landing page conversion rates.
Track the visits to each content type resource page.
Track the CTA performance.
Rate the content.
Get feedback from your audience to help improve the content.
Check the bounce rate of resource pages using Google Analytics.
Remember that content is key. By continually providing new content, you'll be helping spread your brand name and increasing web traffic. All this helps lead generation and will grow your sales. So, why wouldn't you want to have a resource center?