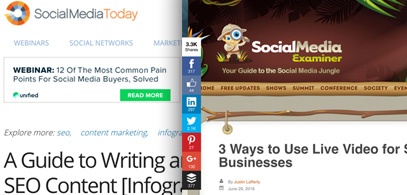 Are you producing content but struggling to improve your search rankings, readership and web visits? If so, you are not alone and there are a few tips and tools that you can begin incorporating right away to boost your content marketing strategy. This week's flashback posts include tips on optimizing content for great SEO, producing live videos to connect with prospects and customers, podcasts that can help you grow professionally and grow your business and important considerations to help you generate more blog readers. Take a look at my favorite posts from this past week:
A Guide to Writing and Optimizing Great SEO Content [Infographic] – SocialMediaToday.com
SEO success goes beyond the use of keywords – especially with content ranking criteria changing everyday. Ensuring that your web content is well optimized can be a daunting task for marketers and it is definitely a task that requires frequent attention. This post breaks down writing and optimizing great SEO content in an easy to understand and visual infographic.
3 Ways To Use Live Video For Small Businesses – SocialMediaExaminer.com
Live video isn't just for news outlets. Incorporating video that is not perfectly polished into your marketing strategy can position your brand as more credible and approachable for prospects and customers. Businesses have begun using live video to connect with their customers in a uniquely personal way. In this post, you'll learn 3 simple ways to use live video to show how products are made, how to launch new products and contests, and take your views "on location."
19 Podcasts Worth More Than An MBA – Inc.com
I spend a lot of time in my car… A LOT. Between my commute, road construction, shuttling kids to activities and spending more time in my car on road trips this summer, podcasts have been my go-to way to make productive use of that time. I love this post because it includes a few of the podcasts I listen to often (Entrepreneur on Fire, Marketing Over Coffee, etc.) as well as a few that I'm looking forward to checking out.
6 Things We Learned About Content Marketing – Drift.com
Do you wonder why some of your blog posts have only a few views and others have hundreds or even thousands? There's no magic equation for successful blogging. But one thing we do know is if you stick with it, and incorporate strong promotion tactics, blog traffic will grow. There are also a few other strategies to consider that can help you produce and promote content that resonates with readers. This is a great post about how one company substantially grew their blog traffic over time.
How to Turn Undervalued Content Into Content Marketing Gold (The Trick is Repurposing) – TopRankBlog.com
Did you ever think that content you wrote 3 years ago could still be relevant and valued? This post references that old content as treasures in your "big, overstuffed attic." "It may occasionally attract a visitor or two, but for the most part it's just collecting virtual dust." This is so true and there are many ways that businesses can repurpose old content. Learn how to repost evergreen content, freshen up top posts, combine competitive content, change content formats and create series.
What articles have you read this week that you found interesting? Please share any good resources for inbound and digital marketing initiatives in the comments below.