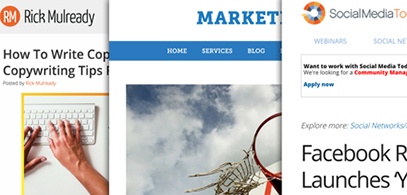 Looking for a few tips from copywriting experts or ways to help prove ROI for your content marketing efforts? Are you someone who is tasked with generating social media content for your business, but struggle with finding or creating quality images? My favorite posts this week touch on these topics as well as a few others that I found incredibly useful, and I hope you do too.
How To Write Copy Like the Pros: 23 Copywriting Tips From Today's Experts – RickMulready.com
Experts like Talia Wolf, Ray Edwards and Ryan Johnson share their tips on the art of copywriting for emails, ads, sales and more. This post also shares some great insight on copywriting do-nots and some insider tips you definitely want to review before taking on your next writing project.
How to Easily Create Quality Social Media Images – SocialMediaExaminer.com
One of the most challenging tasks in regard to social media strategy is incorporating quality images. Whether you use product images, stock photography or design your own images, preparing the visual components for your social posts can be time consuming. This is a great post for anyone looking for a few easy tips and shortcuts for creating quality social images.
Facebook Reaches 3 Million Advertisers, Launches 'Your Business Story' Video Tool – SocialMediaToday.com
Facebook has now reached 3 million active advertisers and this number is growing. To celebrate this milestone, Facebook launched a new tool to help businesses tell their brand story in a simple and engaging way. It's called 'Your Business Story', and the tool enables any Facebook Page to create their own video celebrating their achievements, using content from their Facebook Page as the source material. This is a simple way for businesses to share their story with customers.
How To Prove Content Marketing ROI – MarketingInsiderGroup.com
If you are a marketer that has adopted inbound marketing methodologies, proving content marketing ROI is a common challenge. Calculating this ROI is not unlike other areas of your marketing strategy. This post provides some helpful insight, recommendations and review of new analytics tools that have been developed to help you determine the type of return on investment you are getting for your organization's content creation efforts.
Do you know what referral spam is, how to spot it, or how to remove it? This can be a major problem for businesses and marketers when they use inaccurate Google Analytics reports that could present traffic numbers that are off by up to 60% a month, among other issues. This post shares a few proven strategies to eliminate Google Analytics referral spam.
What articles have you read this week that you found interesting? Please share any good resources for inbound and digital marketing initiatives in the comments below.