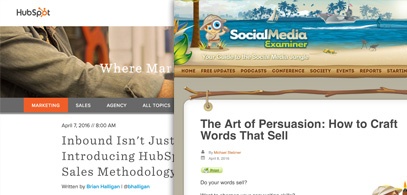 As a partner in an agency that adopted HubSpot's inbound marketing methodology early on, I was excited to learn about the new Inbound Sales Certification Training that is now available for sales and marketing professionals. Below you'll find a link to learn more about this new model and training opportunity as well as more of my favorite posts from the week including information on crafting persuasive content, Google's RankBrain, a tool to help you create Facebook videos, and a guide to local content marketing.
The Art of Persuasion: How to Craft Words That Sell - SocialMediaExaminer.com
Ray Edwards, author of Writing Riches and MoneyWords, shares how to craft written and spoken words that sell. He touches on the importance of persuasive content so that people not only buy products but also ideas. He also shares his own personal system for creating persuasive content.
As marketing teams begin to develop more content and use inbound marketing strategies, sales professionals also need to adjust their selling model so that it aligns with their marketing department's strategies and the buyer's journey. Prospecting and the way people buy products and services has changed. This transformation has come to the forefront of how marketing and sales teams align strategies and HubSpot has recognized the need for a new methodology. For any marketing and sales professional that wants to learn more about this shift, HubSpot is offering a new sales training certification.
Creating Content for Google's RankBrain – ContentMarketingInstitute.com
Last October, Google shared that it uses artificial intelligence to help with 15% of search queries. RankBrain is the system that analyzes vague, ambiguous queries and matches them with the most relevant results. RankBrain's main purpose is to help Google analyze and produce relevant results to long, complex, and ambiguous search terms. In this post, you'll learn how content marketers can create content that will be valuable to this artificial-intelligence signal.
3 Tips For Using Animoto Videos for Facebook Marketing – Animoto.com
If you're a marketer using Facebook to promote a product or service, it's no secret that video is a valuable tool. According to this post written by Mari Smith, users are watching 100 million hours of video on Facebook each day. However, producing videos to be used for marketing purposes can be a somewhat intimidating task. In this post you'll learn about Animoto – a tool that makes it easy to produce and share videos on Facebook.
The Guide to Local Content Marketing – SearchEngineJournal.com
This is an interesting post that talks about how content marketing used to be primarily implemented by big brands and businesses and how it has now become a more accessible strategy for entrepreneurs and small businesses. Local businesses now have a unique advantage with content marketing as audiences can be hyper-targeted geographically. This post touches on the goals of local content marketing, finding topic ideas, using Google search operators and more.
What articles have you read this week that you found interesting? Please share any good resources for inbound and digital marketing initiatives in the comments below.