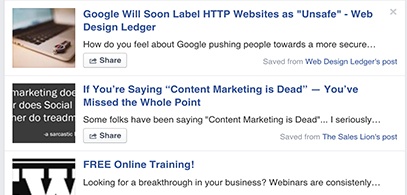 If you're like me, your inbox is flooded with post notifications and enewsletters filled with good articles that you've highlighted to read later. Most weeks, I try to at least scan the articles that are of greatest interest to me and I pass the best ones along to our team. These articles include everything from inbound strategies, digital marketing, social advertising, content production and promotion, web design, public relations, events and much more. I thought some of my favorites would be of interest to our clients and followers, so I've created The Weekly Roundup – a recap of the best posts I've come across. I'll try to be consistent with posting, so be sure to check back every Friday to view my faves from the week.
1. 9 Social Media Productivity Tools For Social Media Marketers – Social Media Examiner
This article focuses on everything from content collection tools to productivity and efficiency tools to help eliminate distractions. #1 is my personal favorite.
2. Google Will Soon Label HTTP Websites as "Unsafe" – WebDesignLedger.com
Google announced recently that it has started considering HTTPS as a metric when deciding page rank for a given website. Considering all other elements are equal, HTTPS websites will get preference over HTTP ones. Taking it a step further, Google will mark HTTP sites as "unsafe."
3. If You're Saying Content Marketing Is Dead – You've Missed The Whole Point – Marcus Sheridan via Medium.com
I follow Marcus Sheridan closely (The Sales Lion) and love his perspective on many areas of inbound marketing and its integration with sales. In this particular post, I like his definition of content marketing: (1) obsessive listening to prospects and clients, (2) Knowing the fears, issues, worries, questions, and wants of your prospects and customers, (3) The willingness to then do something about this awareness.
4. The 15 Most Popular Free Online Courses For Professionals – Inc.com
This post touches on free online courses including everything from negotiation, leadership development, to HR and finance competencies. #8 most likely hits home for a lot of busy professionals and #11 could be really helpful for inbound marketers interested in improving or increasing their content production efforts.
5. Combine Email and Facebook Ad Campaigns for Greater Success (w/ Example) – JonLoomer.com
This post is summed up well by Jon's main point: When you run consistent messaging to the same audience via both email and Facebook ads, they make each other more effective. He shares a great example of how to put this strategy into place.
6. Facebook Professional Services: How Your Local Business Can Rank – Social Media Examiner
Do you struggle to reach local customers through your Facebook business page? This post touches on Facebook's recent launch of Professional Services, a directory that helps customers find the best local business and services for their needs.
7. The Snap Generation: A Guide To Snapchat's History – GaryVaynerchuk.com
An interesting overview of Snapchat's story which started as an idea in a classroom at Stanford, the company's decision to decline Mark Zuckerberg's offer to sell for $3 billion, and their incredible growth to 100 million active users and 7 billion daily video views. The infographic timeline included in this post is worth the view alone.
What articles have you read this week that you found interesting or have saved as a good resource for your inbound and digital marketing initiatives?