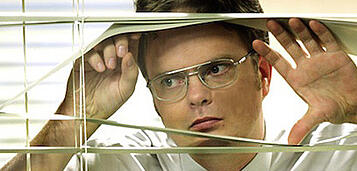 Over the past 8 years, inbound marketing has become a movement adopted by a large majority of professionals in various industries from B2C to B2B. It wasn't until recent years that this wildly successful way of attracting and nurturing prospects and customers has extended beyond the marketing department. Organization leaders in all department areas including HR, business development, training, IT and more, continue to lean on inbound philosophies to achieve goals. While these areas of business have been influential, one department that has likely made the strongest impact by using inbound marketing strategy is sales.
The shift in focus was visible at the 2014 Inbound Conference that took place in September. In the past, the conference offered expert talks geared toward marketers, where this year, there was a stronger focus on sales and sales / marketing alignment. Not only was there a more inclusive approach to the discussions taking place, HubSpot shared information about the launch of new programs that provide valuable tools for sales professionals, and help with the advancement of marketing and sales alignment. Here are the three inbound marketing tools we think sales professionals should be most thankful for this year:
HubSpot CRM:
There has been a prominent shift in the way consumers make decisions. HubSpot's founder and CEO, Brian Halligan, called it the "yelpification" of the buying process. More and more consumers are turning to online reviews to help make informed decisions about what products and services to spend money on. The HubSpot CRM tool is a new, free product for HubSpot customers that will arm sales teams with the tools they need to engage with companies, prospects, and leads - driving sales without driving people crazy.
One key element of the new CRM system includes its ability to pull in emails sent to a client or prospect and will add that individual's contact information to the CRM database (no manual entry). Other great features include call recording with prospects and clients for easy sharing of updates to other team members and timeline, which allows the user to view the contact's information from the CRM system along with call notes, emails and reminders.
Sidekick:
Sidekick, formerly called Signals, works in conjunction with the HubSpot CRM program as a robust tool that gives you insight into prospect and customer activities. It lives in your browser and works in the background while updating information in real-time. Sidekick allows you to automatically log emails into your CRM tool and measure opens / click through rates, notifications when your email was read, delay send times and create a news feed to view email opens and clicks.
State of Inbound: Sales Edition
Each year, HubSpot releases results from its annual inbound marketing survey that collects information from marketers on their challenges, priorities, tactics and results. For the first time, marketing and sales alignment came to the forefront and an edition of the survey with a focus on sales was released in September 2014. According to the survey's summary, the four most important takeaways include:
1. Buyers are more equipped than ever with more information about companies – but sales reps don't have a similar level of insight into their prospects. Bridging this information gap will help close more leads, a top priority for sales and marketing alike.
2. Despite the lack of contextual information about prospects and the popularity of the term, only 7% of reps and executives are prioritizing "social selling."
3. Data integrity and availability has become one of the biggest challenges facing sales today.
4. CRM utility is low – executives struggle with its lack of integration with other tools, while reps struggle with manual data entry. The latter struggle is twice as pronounced in B2B companies compared to B2C companies.
In addition to reading about, testing and learning more about the tools I've listed above, below you will find a fantastic list of sales experts who I think are a must-follow. This is an incredible group of people who really know their area of business and share their expertise frequently. In fact, a few of these experts have released books about inbound selling in the last year. Check them out:
Andy Paul, the CEO and founder of Zero-Time Selling®, and the author of Zero-Time Selling™: 10 Essential Steps to Accelerate Every Company's Sales and the soon-to-be-released, Amp Up Your Sales: Powerful Strategies That 
Move Customers To Make Fast, Favorable Decisions.
Jill Rowley is a social selling evangelist, keynote speaker, and workshop leader.
Jill Konrath is business-to-business sales expert and author of SNAP Selling and Selling to Big Companies.
Matt is the Executive Vice President with The Center For Sales Strategy. H insists on establishing Key Performance Indicators, so that expectations and progress can be both realistic and measurable.
David Meerman Scott | @dmscott
David Meerman Scott's advice and insights help people, products and organizations stand out, get noticed and capture hearts and minds. He is the author of The New Rules of Sales and Service: How to Use Agile Selling, Real-Time Customer Engagement, Big Data, Content, and Storytelling to Grow Your Business.
Mark Roberge is Chief Revenue Officer of HubSpot Sales Products. Prior to this current role, Mark served as HubSpot's SVP of Worldwide Sales and Services from 2007 to 2013, during which time he increased revenue over 6,000% and expanded the team from 1 to 450 employees.
John Jantsch is a speaker and marketing consultant who specializes in assisting small businesses. He is the author of Duct Tape Marketing, The Referral Engine, and The Commitment Engine.
Dan Tyre is the Sales Director with HubSpot and a member of the original team that has led the recruiting, training and growth of HubSpot's sales team. He is an authority on inbound marketing and sales, a regular speaker, writer and coach.
Peter Notschke helps small and mid-sized companies with inbound marketing and WordPress strategies. He offers selling and sales leadership expertise to help attract buyers and convert those potential buyers into customers.
Dave Kurlan is the founder and CEO of the Objective Management Group, Inc. (OMG), a developer of sales force evaluations and sales candidate assessments. He is also the CEO of Kurlan & Associates, a global leader in sales force development and author of Baseline Selling.
What sales tools do you use and have found to be most helpful with your inbound marketing tactics?