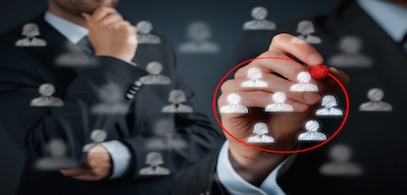 Qualifying prospective customers is an essential function for many companies that want to nurture and convert the best prospects. It is also an important factor in analyzing information about less qualified leads and determining factors that could be used to increase their level of qualification. A valuable resource that has allowed HubSpot users to establish a scoring system that assigns point values to contacts based on individual contact properties, form submissions and list memberships is called Custom Lead Scoring. Its benefits include:
Parameters that allow quick viewing of lead/contact quality
List & workflow segmentation options based on scores
Ability to integrate leads passed into HubSpot's CRM system or Salesforce, based on score values
HubSpot's Custom Lead Scoring function allows a marketer to determine who's a good lead and who's a less qualified lead. Some of the challenges marketers have faced with the system is that understanding all of the factors that go into making a prospect a qualified lead, can be difficult. Specifically, users need to figure out properties to factor into a score as well as how to weigh them.
As a way to address some of these challenges and enhance the system, HubSpot announced the deployment of Predictive Lead Scoring at this week's Inbound conference in Boston. This resource is available for Enterprise level users and rather than asking customers to guess what factors influence a lead's conversion, HubSpot will now predict them for you.
"Predictive Lead Scoring now provides an algorithm that automatically combs through contacts," said Steve James, Partner at Stream Creative - a platinum-level HubSpot Agency. "This improved scoring system takes out the manual manipulation of data and eliminates the guessing; providing a more accurate score and probability for prospect conversion."
In the video below, HubSpot walks through all the new Predictive Lead Scoring system has to offer:
Now having the ability to apply science to lead qualification in a faster, more tangible way, with Predictive Lead Scoring, marketers can improve sales and marketing alignment through:
Increasing the number of marketing-sourced leads
Give sales the peace of mind knowing leads are truly sales-ready
Use the predictive lead scores to segment, nurture stages and identify early-stage leads as those that may need further nurturing
With the data that Predictive Lead Scoring provides, a prospect's buying signals are much easier to find. There is no longer a need for expensive analytics platforms, as the system can provide powerful, predictive insight that can be obtained without having to do any heavy lifting.
Here are a few ways that these new system enhancements can help you better nurture your leads:
Segment and understand the right leads.
HubSpot's new predictive scoring enhancements help better uncover leads that are most likely to purchase products or services. This allows marketers the opportunity to take advantage of the data, and segment based on what is best for your business.
Identify trigger events.
Predictive Lead Scoring can help you identify trigger events for a prospect or within a prospect's business such as executive change, funding, hiring, and more. With this information, engagement paths can be created for marketing and sales teams.
Customize your content.
Is your content aligned with your best prospect's buyer journey? Content, whether it be on your website, in emails, social media or blogs, should always be aligned with the needs & pain points of your best prospects and segments that are most crucial for your business.
Understand that better analytics may demand change.

With Predictive Lead Scoring, results tell a very important story about your prospects. Results are also a good indication where marketing efforts are the strongest and the weakest and may not correspond with the strategic goals for a company. Using Predictive Lead Scoring will help identify what tactics need to be changed to ultimately produce the outcomes desired.
HubSpot's new Predictive Lead Scoring system eliminates the guessing, and predicts which characteristics of a lead that indicate buying signals. It not only takes into account information from multiple sources, but also provides critical information that points to attributes of a prospective buyer. Marketers can now confidently provide high-quality leads to sales and establish automation for further nurturing.