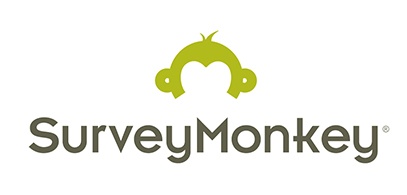 One of the most popular uses of online surveys is for businesses to conduct research. By sharing surveys, companies have the opportunity to perform valuable market research that will aid in buyer persona development, journey mapping, lead nurturing, and to obtain valuable feedback. Additionally, Survey Monkey notes, "Surveying your customers to test branding and naming concepts will help you understand the attitudes motivations, and preferences of your customers, especially in relation to your competitors." Regardless of your motivation for incorporating surveys into your inbound marketing strategies, utilizing the Survey Monkey Integration in HubSpot allows you to take your data and turn it into something actionable.
Using the integration allows you to:
Segment contacts based on whether or not they have completed a survey
Segment contacts based on their exact answers to survey questions
See all of a contact's survey data in the timeline
Score a contact based on their survey data
Pass all of a contact's survey data to a sales rep in Salesforce
Here is a simple step-by-step video tutorial to help you setup the Survey Monkey integration in HubSpot.
If you do not currently have a SurveyMonkey account, you can create one here.
Step 1:
Login in to your HubSpot dashboard, navigate to the Account Tab > Integrations
Step 2:
Click on the "Integrate with HubSpot" button.
Step 3:
Click on the blue button "Authorize HubSpot to access SurveyMonkey." This will then open up a SurveyMonkey authorization page.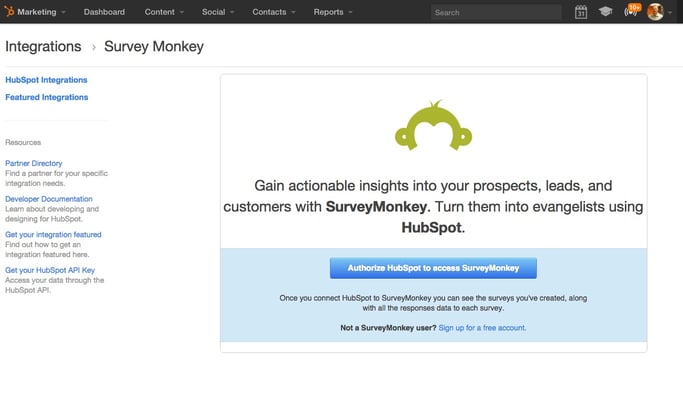 Step 4:
Click on the yellow button "Authorize" to validate the account.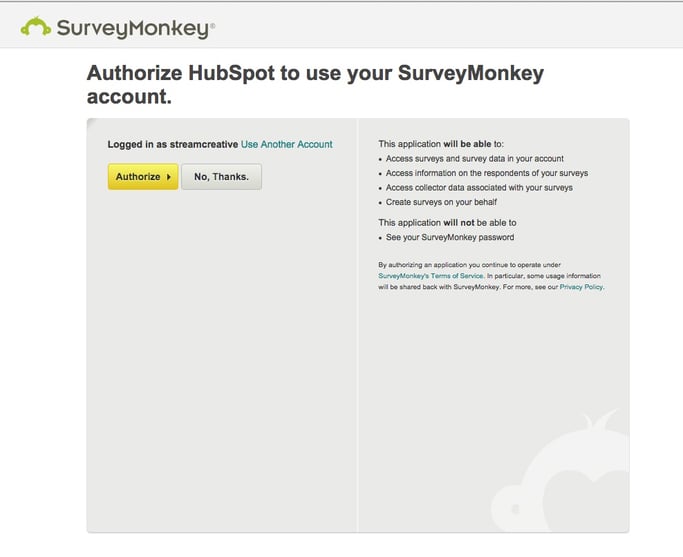 Step 5:
You will then be taken back to HubSpot and the Integration page. Here you will now see all of your Surveys listed and by default they are turned off.
Step 6:
Choose the Survey you want to sync to HubSpot by turning it on.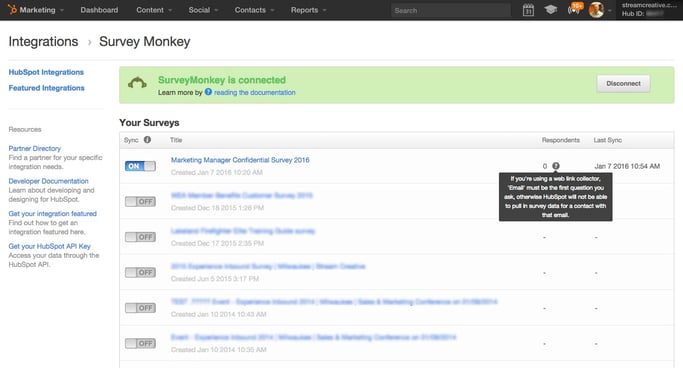 Step 7:
Important Note: In SurveyMonkey you have a couple choices to promote your survey. The first option is uploading your email list to SurveyMonkey and sending out directly to your list. The other option is to create a link that you would email to participants, share via social, etc. If you choose the second method, then the first question of your survey MUST contain the word "email" in the question for your HubSpot integration to work. Here's the example we did for one of our surveys:
Please provide your email address. You'll be entered to win the prize just for participating!
Step 8:
In HubSpot, you will then want to create a Smart List. Go to Contacts > Lists > Click on New List Button.
Step 9:
Give your list a name.
Step 10:
Under Segment Contacts By… on the left side, click on "SurveyMonkey response."
Under "Contact has responded to survey" select the Survey title from your SurveyMonkey account.
Then click on the "Please select a survey" drop down.
Step 11:
Choose Your Survey and click done.
Your List will then be in process mode. You can click on "Back to lists" and see the contacts.
Step 12:
Once you have this list, you can use this for future HubSpot email workflows to your survey responders. And since this is a smart list, it will continue to grow as more people complete your survey.
The integration between your HubSpot portal and SurveyMonkey is one of the first integrations I recommend using with HubSpot Connect. If you'd like more details, I recommend checking out the HubSpot Academy "Create a Survey" project.