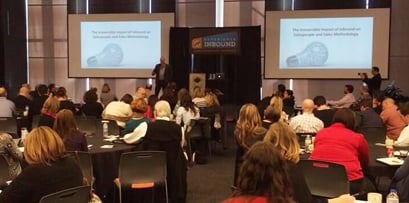 Each year, our Stream Creative team heads to Boston for the annual Inbound conference hosted by HubSpot. The best part about attending the conference is the opportunity we have to meet and network with some of the most creative and talented individuals from around the world. This past November, we came away from the event inspired to bring a similar experience to the sales and marketing professionals of Southeastern Wisconsin. That was when Experience Inbound was born and to be honest, we weren't sure if anyone would come. Thanks to our event speakers, sponsors and supporters, we were thrilled to have more than 150 attendees join us for the inaugural event. Here are a few of our favorite actionable takeaways our event speakers shared to help boost your inbound efforts in the year ahead.
1. "Traditional marketing is like renting space on someone else's assets"
Brian Halligan, Co-Founder & CEO of HubSpot
Brian kicked off the morning with a dynamic talk about the future of inbound marketing and sales. He began his discussion by mentioning the brisk walk to the Harley-Davidson® Museum from the Iron Horse Hotel – which in his compliments to the city of Milwaukee he mentioned was the "nicest place he has ever stayed." He focused on many key inbound facts and areas of consideration including how to build your marketing assets.
Quick Tip: Marketing assets are thought of very differently today than they were 20 years ago, partly because of the way we now live and work. Instead of interrupting your way to get the attention of prospective buyers or clients through "renting space" on someone else's assets (traditional advertising), how do you pull them in? That can be achieved through increasing webpages, links, keywords, followers, remarkable content, etc. Brian told us to think about building these assets as if you were building a moat around your business.
Watch a video of Brian Halligan's Experience Inbound keynote presentation, view his slides and read his interview with Jeff Sherman of OnMilwaukee.com.
2. "People don't mind getting interrupted if they are interested"
Frank Belzer, Author of Sales Shift
Frank Belzer's presentation was a great transition touching on the power of inbound in sales. He brought to light the fact that most sales reps don't typically like to be told that they need to adjust their approach, and asked attendees "how many sales professionals do you know would walk away if its not the right fit?" In order for inbound to work, corporations need 100% belief and adoption from anyone who has the ability to sabotage the process.
Quick Tip: Frank reiterated Brian's remarks regarding the need to create remarkable content – not just from the marketing department but also from various contributors throughout the organization. He shared some examples regarding various interruptions that we receive each day and stressed that it is not the intrusion that bothers us – it's the intent of the intrusion. If the intrusion contains information we are interested in or "remarkable content", it will keep our attention.
Watch a video of Frank Belzer's Experience Inbound presentation, view his slides, check out his blog and his book, Sales Shift.
3. "Change in an organization may cause fear and frustration, but watch for those who are excited"
Christine McMahon, Christine McMahon & Associates
Christine McMahon kept it real with her presentation talking about a company's need to adapt to change and innovate in a way that creates their own future. She emphasized the need to define the criteria by which you evaluate new ideas, services and products – focus on the ones that change the competitive landscape.
Quick Tip: Innovation must align and be part of your business strategy. Considering your mission has 5 categories, they may be broken down by growth, delighting the customer, innovation, productivity and creating an environment in which people like to work. Innovation is a top-down initiative.
View Christine McMahon's Experience Inbound presentation slides and handouts.
4. "Join groups, include keywords in your personal and company profile, and don't post 'Whale of a sale this Saturday' to LinkedIn"
Wayne Breitbarth, Author of Power Formula for LinkedIn Success & CEO of Power Formula LLC
No snoozing after lunch with Wayne Breitbarth on stage. He had everyone's attention with his witty personality and tactics for using LinkedIn to boost your inbound strategy. Adding keywords, calls to action, joining groups, posting status updates and using the special profile sections were among a few key notes attendees walked away with from Wayne's presentation.
Quick Tip: Wayne mentioned that LinkedIn allows users to join up to 50 groups and it is important that you take full advantage of all 50. They are the most highly rated feature on LinkedIn and a great way to share your knowledge and engage with potential customers. Identifying your company's most important keywords and incorporating them into both your business and employee profiles is also a critical element to using LinkedIn.
View Wayne Breitbarth's Experience Inbound presentation slides, handouts and his book, Power Formula For LinkedIn Success.
5. "Be irresistible by being you – authenticity is sexy in any industry"
Jeff Coon, Partner & Creative Director with Stream Creative
Stream Creative's own, Jeff Coon, took the stage to talk about how to achieve results in an industry that may be considered "unsexy". Jeff shared an example of the agency's work with Wolf Paving, an asphalt paving company based in Milwaukee, and the results they have seen by committing to an inbound marketing plan. Other examples given touched on the group's work helping manufacturing companies and B2B clients evolve from traditional advertising methods and focus on inbound methodology.
Quick Tip: Jeff shared with the group that he drives a mini-van which in some people's view may be "totally un-sexy", just as the many great companies they serve in insurance, manufacturing and asphalt paving may be considered to be in "unsexy" industries. Just because you are in what may be considered an unsexy industry, results are irresistible when you define beauty in the eye of the beholder – that being your buyer's persona / customer profile. Authenticity is what will make you sexy to potential and current customers.
Watch a video of Jeff Coon and view his Experience Inbound presentation and slides.
6. "Be prepared to change and evolve"
Nina Brakel Shutt & Jake Athey, Widen Enterprises
Marketing Manager, Jake, and Brand Strategist, Nina, wrapped up the conference with a case study showcasing inbound marketing's effect on the evolution of their company. From changing the team structure, identifying the core product, creating remarkable content and nurturing leads, Widen put all the necessary systems in place to support inbound.
Quick Tip: Less than 10 years ago, Widen's primary method of marketing to prospective customers and cultivating leads involved cold calls and emails, buying lists and driving all over creation. It took a significant company change and evolution to create an inbound culture that positioned the company in all the right places for their products and services to be found. Results included profound increases in web traffic, leads and new customers.
Learn more about Widen's lessons learned and inbound results by viewing their Experience Inbound presentation slides and view the company's blog.
Experience Inbound 2014 was an incredible day filled with valuable information, collaboration and networking. We truly appreciated that our more than 150 attendees kept the engagement level high and asked insightful questions. Watch for the Experience Inbound 2015 event date coming soon.
Special thanks goes out to all of the Experience Inbound 2014 speakers, event sponsors and partners: The Better Business Bureau, OnMilwaukee.com, Big Shoes Network, Center for Business Performance Solutions, SalesSmith and the Harley-Davidson® Museum.