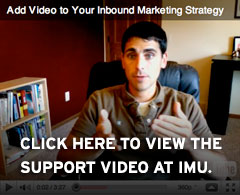 Article originally written and published for Inbound Marketing University
One of the principles of inbound marketing is creating valuable content. That content doesn't always have to be in the form of traditional blog posts or text-based articles. Look to incorporate photos and video as a way to add variety to your posts - your audience may appreciate it.

Benefits of Video for Inbound Marketing:

1. Video showcases your personality and let your visitors get to know you.
2. Video allows you to better explain complicated processes or services.
3. Video can provide some content publishing efficiencies.
4. It gives you something to test and measure.

Drawbacks of Video for Inbound Marketing:

1. You may not be comfortable in front of the camera.
2. You'll need to invest in some equipment (although it's a VERY SMALL investment).

To read the full article and see the supporting video, please visit Inbound Marketing University.