LinkedIn is more than an online resume platform. Many different benefits can come from taking full advantage of the various opportunities with LinkedIn. Groups are used in LinkedIn as way for individuals and professionals from similar industries to share interesting topics and create discussions.
Amazing opportunities are provided for inbound marketers to interact with, brainstorm, and learn from other marketers. These inbound marketing groups help professionals work together, sharing the latest news, events, ideas, and experiences with others in the inbound marketing industry.
Check out these LinkedIn Inbound Marketing Groups to see what they're discussing and sharing.
1. Inbound Marketing Forum (Closed group but you can request to join.)
Networking group with 463 members.
"A forum for marketers to discuss all aspect of this new and exciting area of marketing."
Professional group with 291 members.
"Designed to educate marketers around the world about the inbound marketing methodology."
Latest Discussion Topics in the Group:

How Design and Layout Drive Landing Page Best Practices
Three Reasons Images Are More Important Than Ever
How to Consistently Create Content for Your Blog
Networking group with 1,052 members.
"Dedicated to sharing tips and best practices for leveraging inbound marketing strategies to increase lead generation."
Latest Discussion Topics in the Group:

The 6 Social Media Fans Every Small Business Needs
Using YouTube for Effective Marketing
The Inbound Sales Acquisition Funnel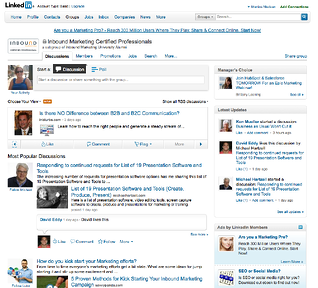 4. Inbound Marketing Certified Professionals (Closed group but you can request to join.)
5. Inbound Marketers – For Marketing Professionals
Professional Group with 81,754 members.
For those "looking to reach their best customers online through inbound marketing, search engine optimization, and social media."
Latest Discussion Topics in the Group:

3 Social Media Lessons 'Big' Business Can Learn from 'Small' Business
How to Get Your Content Trending Over Social Media
The 6 Month Link Building Plan for an Established Website
These are just some examples of Inbound Marketing groups on LinkedIn and the discussions they are having. After joining a group, research what other groups people have explored and join those groups as well to further your inbound marketing education.
What LinkedIn groups are you a member of? What have you learned from them?